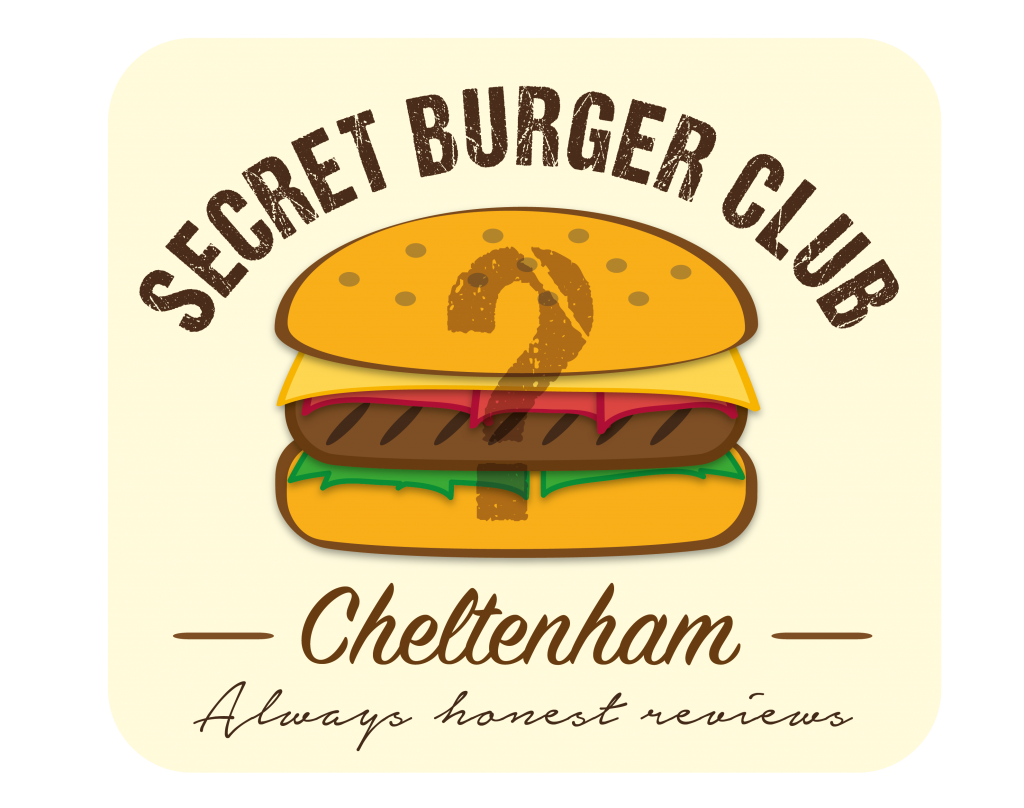 Welcome to the Secret Burger Club!
The First Rule of Secret Burger Club is….just kidding. So if you've found your way to this page, congratulations, you're a member. This page is for anyone who lives in the Cheltenham area and likes burgers. We've been testing burgers around Cheltenham town centre and offer these frank and honest reviews to help you decide where to spend your hard earned cash on a meaty treat! Burgers are great. And with a decent choice around where should I go for my burger?
The Rules
Full rules (including what an eatery needs to qualify), disclaimers and whatnot can be found under the reviews at the bottom of the page.
All places appear in the order we've ranked them in. Refresh this page to ensure you have the latest updates!
So many burgers, so little time – Current Rankings
last updated 14/12/2019
The Ox – Going Deeper Underground
Holee Cow – Do you remember the first time?
The Revival Café – Jewel in the Crown
Bill's – Quality Family Time
The Strand – More than Meats the Eye
The Hewlett – Hidden Gem
Son of Steak – Raising the Game
The Swan – You get what you pay for
Café Rouge – Une tranche de vache s'il vous plaît
Revolution – Worth the Wait?
The Bottle of Sauce – Hipster Fun
The Old Restoration – Apparently Sweet Enough
The Brewhouse & Kitchen – Brassy & Classy
TGI Fridays – America! F*ck yeah!
JD Wetherspoon – The Moon Under the Water – A Well-Oiled Machine
Babel – Trendsetter
Smokey Joe's – Thanks for the Memories
The Lansdown – Big Shoes to Fill
The Miller – A Crowded Moo-ket
The Spectre – Ghosts of the Past
The Feathered Fish – Cheap and tasty
Taylors – Sing – When You're Winning
The Bayshill – A local Pub for Local People
Burger King – A Welcome Return?
Chiquitos – Bastante Promedio
JD Wetherspoons – The Bank House – Playing the 'Spoons
McDonalds – Live Crime Whilst You Wait
Five Guys – Don't Believe the Hype
Reviews
Scroll down for a full, honest reviews and photos including tips on getting the best deals. Starting with the best – and thanks loads for joining our club! More to come!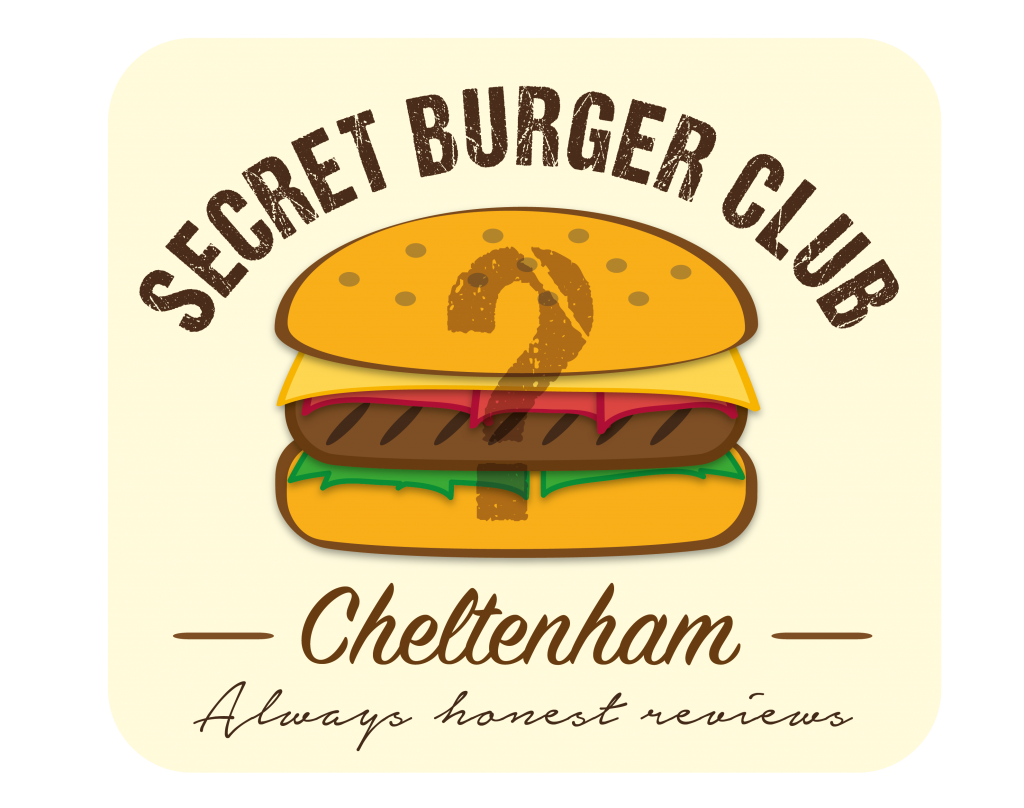 The Ox – Going Deeper Underground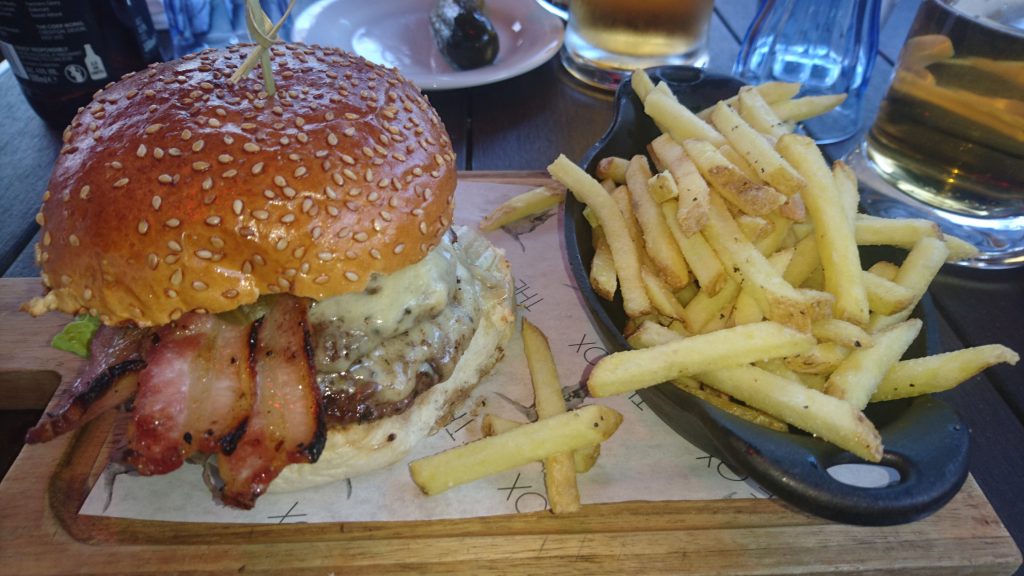 Food? You get a double burger as standard, which are perfectly browned and textured on the outside, and pink and juicy in the middle, loaded with cheese and three bacon rashers, served in the correct British bread sesame-seed-topped bun, and it's delicious. Faultless in fact. Well-seasoned, skin-on fries top it off. Fab.
Price? £30 for both burgers and a pint of beer each, paying an extra £2 each for cheese and bacon, taking advantage of their Wednesday 'burger and beer for £15' offer. So £34 all in.
Venue? Has an aged feel to it. A little dark, or possibly ambient depending on your frame of mind. A little cluttered. This place is posh.
Family/disabled friendly? Not really, unless you sit in the heated garden out the front. The Ox is a victim of it's circumstance under a Regency building and down a short, steep, unforgiving flight of stairs. No baby changing facilities that we're aware of and disabled access could be problematic. The sort of place where you dread your child kicking up a fuss.
Service? Attentive, friendly and professional. We were asked about sauces once our food arrived, but ketchup is highly rationed in small jars so we had to ask for more! We probably lowered the tone in all honesty.
Can I get a beer? Yes – but we have two problems with it. The only lager they have on tap (and hence on the offer) is Four Feathers and it just isn't very good, sorry! A lowly 4%, it's pretty tasteless, and it's served in a handle mug more suitable for ales. It isn't a headkeeper glass (etched at the bottom), so your not-very-good lager is flat before you even taste it. This massively lets the side down, so until they rectify this with better beer and/or better glasses, see if they'll give you a bottle in the deal instead. No promises though!
Pickle Test? More than happy to oblige. Pass.
Review? If you haven't been to the Ox before you should try it. A meat lover's paradise, they do amazing steaks and have a special josper oven that leaves a pleasant searing to the outside and leaves the inside juicy and pink. The heated garden is pleasant, and the upmarket vibe to the place makes it a real treat. Awkward access issues and bad beer are forgiven as this is a burger list, and the burger is truly exceptional, and the excellent service, reasonable offer price and venue (issues mentioned aside) nudge it above Holee Cow in our list. One thing to watch out for – they will catch you off guard early on with an offer of 'water for the table', so get ready to pay £4.50 for a bottle of mineral water – if this isn't your bag make sure you specify tap water is fine. But try this burger. Amazing.
Holee Cow – Do You remember Your First Time?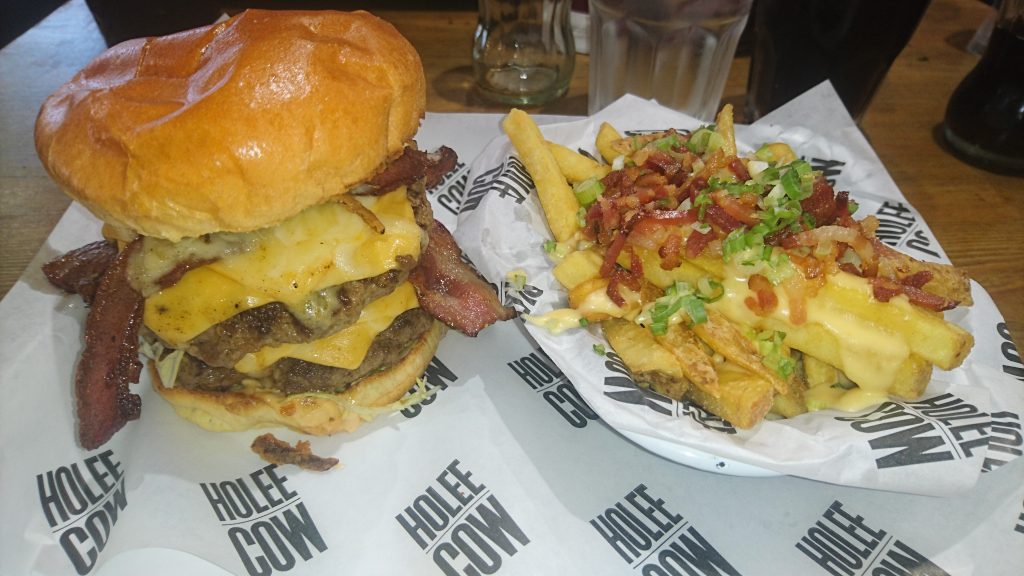 A relative newcomer to Cheltenham, we visited Holee Cow last year at its previous location on Clarence Street and had a fab time. The manager took time to speak to us personally, took our order at the table, we liked the ambience of the venue and the burger was hands-down the best we've had in ages plonking Holee Cow firmly at number 1 on our list. So they've moved location now onto Winchcombe Street – in fact to the very premises of former famous 'fall from grace' metaphor Real Burger – can they measure up and do it again?
Food? Again, brilliant. Hand-made, locally sourced, and still in our mind one of the best burgers in Cheltenham to date. We did have to pay for the fries separately, but on offer are truffle-oil fries, bacon/cheesy fries with spring onion (lovely!)(pictured), sweet potato fries, etc etc so the decent selection means this is forgivable and adds a fun dimension to your meal.
Price? Approx £30-£35 for both of us. Fair.
Venue? Not the best and lacking the real ambience of the previous premises. If you can get past the shabby-shiek, chipboard-covered and unfinished look to the interior you may have the misfortune to need the loo, which involves a hazardous trek down some steps to a musty and unpleasant toilet. Not somewhere you'd want to wash a child's hands, for instance.
Family/disabled friendly? Not really, sorry. Steps at the entrance and the afore mentioned toilet issues mean getting a pushchair or wheelchair in is a bit of a mission. Rumour has it there is a side door, but we have a pushchair and we weren't shown it. There is room for a buggy inside if you can get up there, and families were eating when we went. Something to work on.
Service? Very good really, the staff are well-presented and friendly although they didn't take our order at the table this time and asked if we'd go to the bar to do it, which is a shame, especially considering they weren't busy. Make an effort! The speed of service was very good, especially considering everything is made fresh. Being able to see the kitchen at the back is good too.
Can I get a beer? Yes! No pumps but a selection of bottles available.
Pickle Test? Happy to oblige. Pass.
Review? – Another strong showing at the top of on our list, but only just with a poorer scoring than last time we went. Holee Cow has its problems, and is somewhat limited by the building it finds itself in but there's nothing that can't be fixed. The food is fantastic, and if they can make the required updates whilst maintaining the consistently excellent burgers and pride in their food they should remain a welcome and permanent addition to the Cheltenham food scene. It is these sorts of entrepreneurial independents that the Cheltonian should cherish. Try it.
The Revival Café – Jewel in the Crown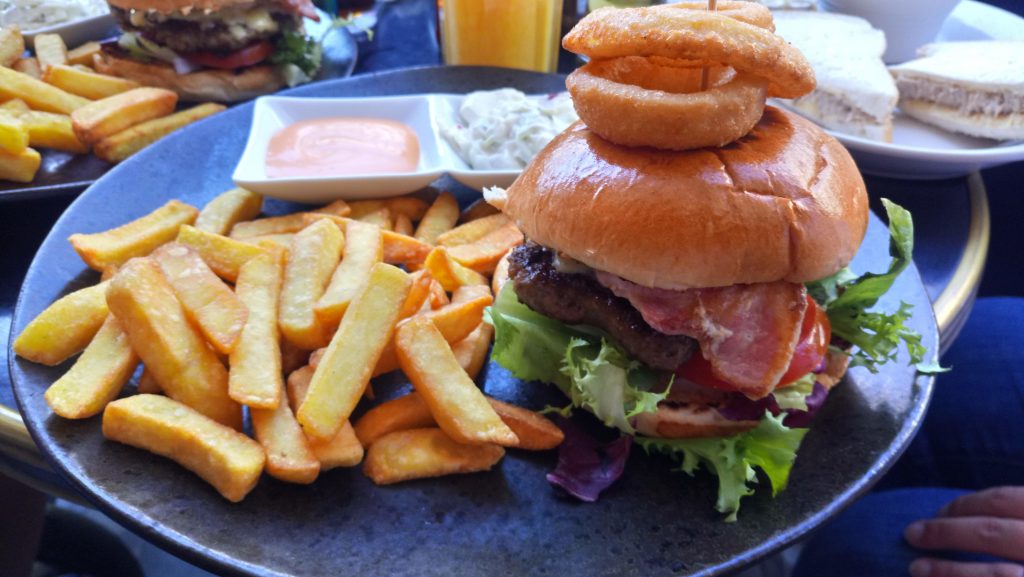 Food? A locally sourced, decent sized and delicious burger with a generous portion of well cooked, golden fries. A fresh salad selection, with a portion of burger sauce and coleslaw on the side. The correct toasted, bread bun is speared down the middle, and onion rings to boot. Held together well, so just fabulous.
Price? Burgers start at £6.95 and you pay £1.10 each extra for the bacon. Everything else is included. So all in this meal cost us £13.90 plus (reasonably priced) drinks for both of us. A bargain.
Venue? A friendly, local, streetside cafe with none of the hipster pretext prevalent in so many of Cheltenham's venues. Great. The odd bit of road noise outside caused by bikes or nuisance BMWs driving up the road too fast is nothing they can help.
Family/disabled friendly? Yes absolutely. Outside space is limited, but they'll pull out the stops to squeeze you in and make you comfortable, even if you have a push-chair.
Service? Full, exceptional table service by friendly and capable staff. All the correct sauces are there already. Faultless.
Can I get a beer? Yes
Pickle Test? They did go and ask, but didn't have any, sorry. But maximum points for effort. Fail.
Review? Have you been to the Revival? These small establishments are part of Cheltenham's heartbeat, should be cherished, and are one of the reasons we set up this page. You can stop for a drink and watch the world go by, and their full menu offers something for everyone, and really great, tasty and good quality burgers with all the trimmings rock in at really great Wetherspoon-rivalling prices, without the chav clientele. Get down there, show them you care and tuck into some fab grub. Can't recommend it enough. It can be a little cramped is all, so if there are several of you try and book ahead, or go to Bills for similar quality, more space but much higher prices.
Bill's – Quality Family Time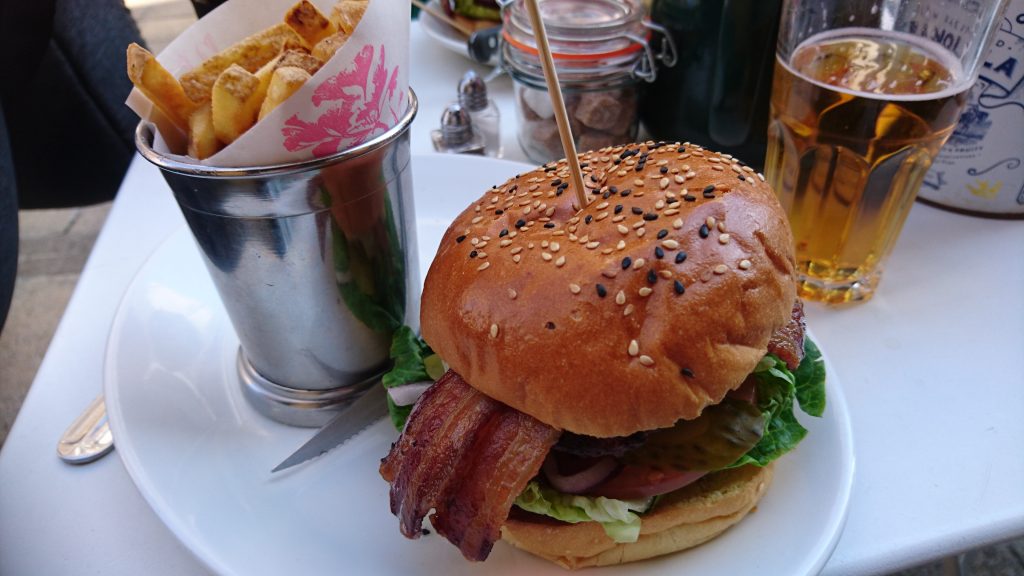 Food? A really excellent, well-presented burger is delivered with really excellent, well-presented service. Faultless and Delicious.
Price? A higher than average £35-£40 for both of us, but worth it in our opinion. Bill's also offer a discount for members of the Emergency Services (nurses etc) so get that blue card out!
Venue? A larger-than-you'd-expect, well decorated, family-friendly restaurant over two floors. Very welcoming.
Family/disabled friendly? Yes, fully, including, unusually, a (slightly manky) lift to the upstairs seating and toilet.
Service? Fabulous and attentive. Just the right balance of friendliness and professionalism from everyone we've dealt with on several visits, all orders taken at the table, and no unreasonable waiting times. Get in.
Can I get a beer? Yes
Pickle Test? No problem at all. Pass.
Review? Can't fault it really. At a lovely location just off the High Street, we've eaten inside and outside on separate occasions and think the slightly-higher-than-average price is fully justified with attentive table service. They offer a different burger special each week. Bills doesn't just offer a great burger, it offers a great dining experience. Get down there.
The Strand – More Than Meats the Eye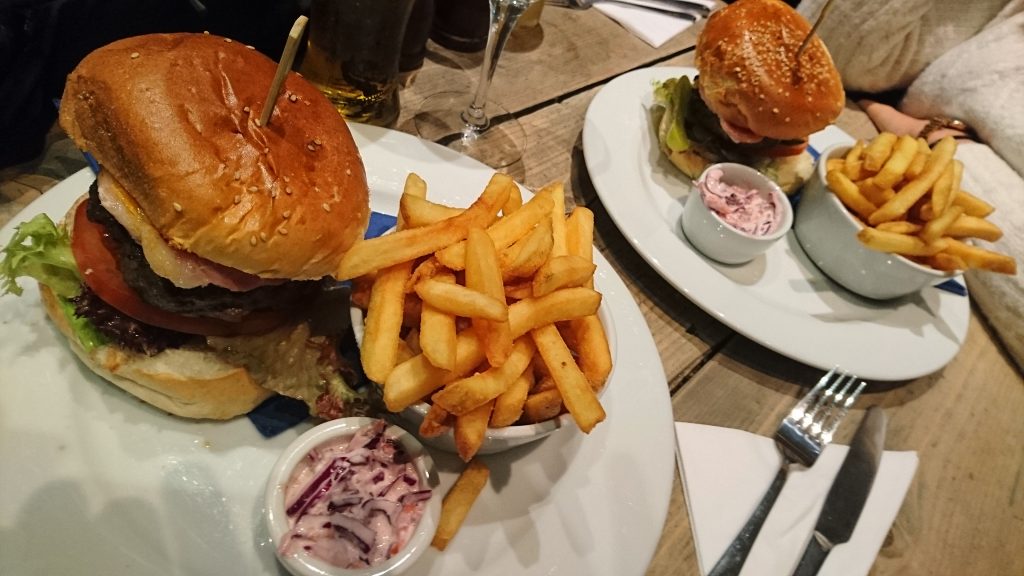 Food? Well well well! A gigantic 8oz all-handmade burger in the correct sesame seed-topped bread bun takes us completely by surprise and absolutely smashes some of the nearby competition out of the ball park. It looks great and has a wonderful irregular texture. Accompanied by a good-sized portion of what this writer considers to be perfectly cooked chips (golden crunchy on the outside, soft and fluffy on the inside) a fresh salad selection within, and a small portion of tasty slaw. What's not to love? Absolutely one of the best burgers we've had in ages.
Price? About £29 for both of us, including an alcoholic drink each, which is perfectly reasonable. Their menu structure allows you to customise your burger with toppings of your choice off a list. We chose our usual (compulsory) cheese and bacon, with cheese you can go with cheddar or 'American cheese'. We chose the latter. On Wednesdays they have a 'Gourmet Burger Night', which by the time you've added your toppings basically knocks £2 or £3 off the normal price. Worth having.
Venue? A small pub with a large garden at the back, the Strand hold its own. There's plenty of ambient noise and a cosy feel, even if it is a trifle cramped which of course is beyond their control. With tight competition here on the upper end of the High Street, it's something of a trendyish place for the gin-drinkers amongst you. Although they have all the facilities to accommodate a family, it might not be somewhere you'd take young children although in the summer out back would be great. Two function rooms are available upstairs, and given they have a kitchen that definitely knows what they're doing, they might well be worth hiring if you're looking.
Family/disabled friendly? For a smallish place they have this covered. A large door by the bar with one small step for wheelchair access, and both a clean disabled toilet and baby change facilities can be found on the ground floor. Maximum points here too.
Service? You order at the bar as is expected in a pub, but all the staff are young, well-presented, energetic and friendly. Well done. The food turned up in good time. All condiments made available immediately, although ketchup was rationed in a ramekin so she was sent back for more and cheerfully obliged. If she baulked at our greed she did a good job of covering it up.
Can I get a beer? Yes sure. A couple of lagers and plenty of good ales to try. Thatchers is the tap cider on offer.
Pickle Test? Pickles are an optional 50p on the burger menu. We paid this and asked for extra, and they came. Pass.
Review? – We went on a busy Wednesday night and having not really been before, we had zero expectations of the Strand – bar a rumour that they do a good Sunday roast – to go on, giving them everything to prove, or nothing to lose depending on which way you look at it. Just as we'd resigned ourselves to the possibility that we might've already tried the best burgers in town, it was a real treat indeed to discover a really fabulous and tasty effort here. The Strand's burgers are awesome, and we're really pleased to welcome them into our revered top 10. Try one.
The Hewlett Arms – Hidden Gem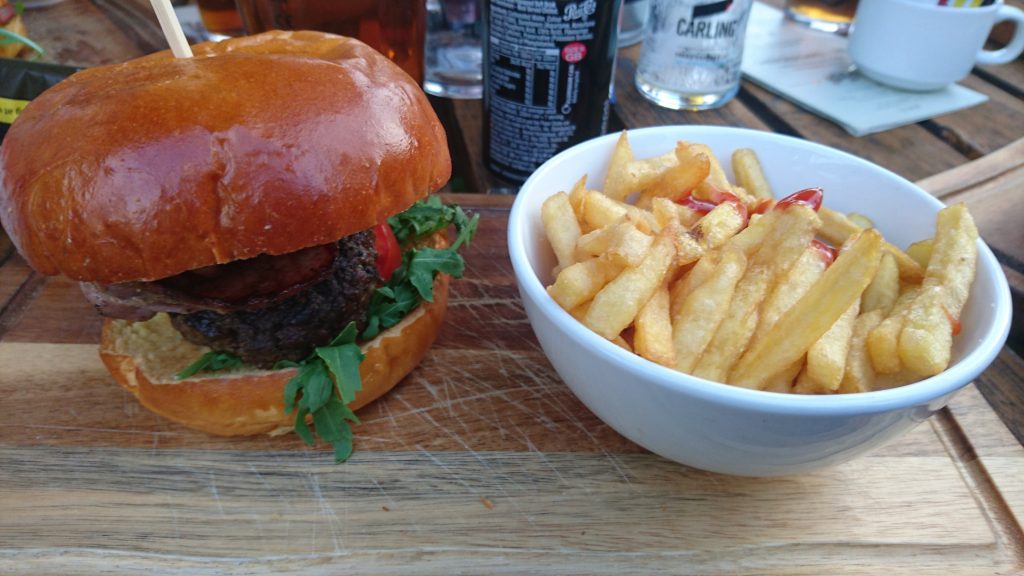 Food? -An excellent, handmade burger that's more meatball shaped, offering good height and a good bite. Cheese and bacon come as standard, as do fries, with the option to switch to sweet potato fries – for free!
Price? £20 for both of us, including a drink, making use of their fabulous value 'Burger and a pint for £10' offer, on Wednesdays, 6pm-9pm. Absolute bargain and one of the best value deals in Cheltenham right now..
Venue? A lovely, well presented local pub with plenty of seating in or out and a leafy, sheltered beer garden. The locals drinking there were from every age range reflecting a quality atmosphere.
Family/disabled friendly? Yes, absolutely. At least when we went, being a local pub it could be busier at weekends. We also had trouble with the baby-changing table, this needs attention please!
Service? A friendly, relaxed family atmosphere amongst the staff who got everything right. This is a great pub.
Can I get a beer? Lagers and good quality ales available so yes
Pickle Test? Yes no problem. Pass.
Review? A brilliant local pub with brilliant value, tasty food and friendly staff. The only thing we could fault it with was the un-environmentally friendly propensity for ketchup sachets over a bottle, and it isn't the market leader. We raised our problem with the sachets and the staff member diligently brought us out ramekins of poured sauce instead without so much as a raised eyebrow. Well done! If you live in Fairview – or even if you don't – then we think the Hewlett is absolutely smashing. Get down there for a burger, you won't be disappointed.
Son of Steak – Raising the Game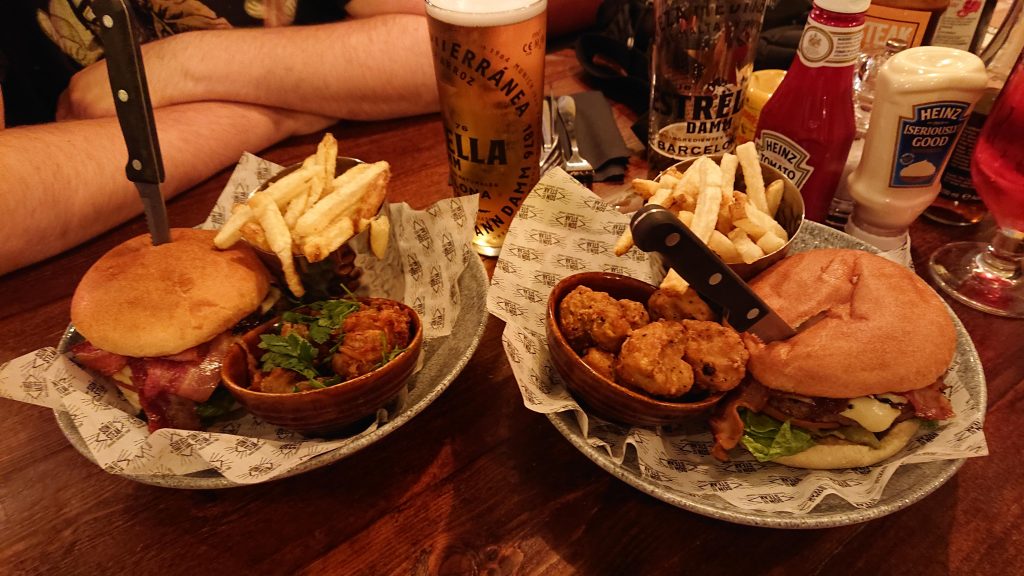 Food? Really good albeit aggressively stabbed with a massive knife. Plenty of bacon on a tender, well-cooked, pink in the middle, well-constructed burger – in the inevitable brioche bun, which did hold together ok. It all went down surprisingly quickly. Good salad and sauce content too. Skin-on fries in a reasonable portion. See 'price' for other items ordered.
Price? £31.65 for both us. Bottomless soft drinks are on offer, but our coke drinker had an uncharacteristic bottle of Old Mout cider so noted here, thus knock off a couple of quid for a Pepsi instead. A burger on its own is – quite reasonably – sub-£8, but if you want the fries you're forced to take the more expensive burger option of £11.65 which includes two sides, then forcing you to choose another accompaniment. Or double fries! We chose battered mushrooms (greasy but tasty) and the 'onion loaf', which the staff really struggled to explain, but is a nest of fried onions (also greasy but tasty).
Venue? The whole place is really well thought out and well-presented. Wide aisles in a spacious, tastefully lit ranch house-style restaurant. Everything is pristine because at time of writing they have only been open a short time. You order at the bar and collect the cutlery and sauces (of which there is a good choice) on your way back to your table. Individual toilet facilities add a touch of exclusivity. The booths are comfortable and have power and phone charge sockets, which is a really nice touch. One of us was helpfully automatically offered wifi on our phones. It's in the Brewery, so there is limited seating outside. Unfortunately it's directly opposite the new Starbucks and their accompanying Cineworld, hideous, far-too-bright advertising massively long TV-thing so sit facing away from that if you don't want epilepsy. We predict this dreadful eyesore will cause big problems for Son of Steak – or anyone with a light-sensitive illness – so will be watching with interest what happens with it. It is awful. This isn't Vegas, Cineworld. Tone it down!
Family/disabled friendly? Great baby change and disabled access. Definitely one to bring the family too.
Service? The staff are all immaculately presented, young, attractive, friendly and cheerful. They don't have a lot to do in all honesty, because the business model means the customer does most of the work. So they drift around airily, tiding up, idly pressing buttons on the till and fraternising with the customers. They could easily offer table service here in quieter times but rules is rules! The food arrived after what seemed like the perfect waiting time, not too long but giving you time to settle in to what is a charming atmosphere.
Can I get a beer? Yes, only Estrella on tap at time of writing with scope for more to come. Plenty of bottles to choose from.
Pickle Test? We caught the startled look on the face of the doe-eyed bar/til girl when we made our usual off-menu request, but she listened carefully, confirmed that pickles usually are served in the burgers and dutifully resolved to go ask the kitchen. So maximum effort points to her, well done. But the kitchen shot her down like the Luftwaffe over 40's London and flat out refused her. She came back somewhat crestfallen and said they only had enough gherkins for tonight, or they didn't have enough, or maybe there weren't any, so sorry. In any case when our burgers arrived there were no pickles to be seen there either. Perhaps they were withheld as punishment for our impertinence. Fail.
Review? Great food in a great, family-friendly place with friendly staff. You can't argue with that. This was actually our second visit to Son of Steak, having arrived hungry and keen for a table in their first week of business – and they'd run out of burgers so we left in a fury and wrote a damning review cursing their ineptitude. But we thought we'd give them a second chance, and are really glad we did. Son of Steak is a most welcome addition to the Brewery, and we wish their team the best of luck. A couple of missed opportunities are quickly forgotten when one is offered – for £3.50 – a tasty fudge cake or cheesecake – with unlimited ice cream. Once the gluttons of Cheltenham catch on they may rethink this policy, so we encourage you to make the most of it before they do. But we digress – this is a burger list, and their burger is well priced and if you can get over trundling to the bar for a beery top-up halfway through your meal the overall experience is excellent.
The Swan – You Get What You Pay For
Food? A come-back-again-soon-smashing burger, the Swan's speared patty definitely hits the spot. Very well presented with excellent chips and an attractive side salad, all on a folded napkin make the poppy-seed topped, correctly breaded burger look delicious. It's meaty texture doesn't disappoint. This kitchen can make a burger, no doubt about that.
Price? Confused. Their menu suggests you have to pay extra for chips, toppings, (75p each or 3 for £2) and 'doubling up' costs a juicy £3.50 – but sometimes the sides seem included and sometimes they don't! However they decide to charge you, beer and wine are both expensive here so you're looking at a fairly hefty £38 for two to eat and have a drink.
Venue? A pleasant town centre pub with some decent outside seating. The conservatory area inside is plagued by crackly speakers and the music volume, which alters radically depending when you go and where you sit, may not be to everyone's taste.
Family/disabled friendly? Probably not. As an old building there's plenty of steps and levels throughout so the easiest way to get in in a wheelchair or pushchair is through the car park at the back, and sit outside or in the conservatory area. Families do eat in there though, so don't rule them out unless you're on wheels.
Service? Pretty good. There's a 'seen it all before' vibe amongst the colourful, somewhat scruffy and laid back staff, but you're never waiting long at the bar and they usually get everything right. Correct bottled sauces in Swan branded bottles are made available including a nice flavoured BBQ option.
Can I get a beer? Of course, plenty to choose from here, and a notable choice of quality different ales available.
Pickle Test? Yes, sure. Pass.
Review? Is the Swan getting ideas slightly above its station? A High Street pub within a stone's throw of budget basement Wetherspoons or the Spectre charging just a bit too much for food and drinks to make it your regular family treat. The food quality shines way past the aforementioned competition though, and this list is all about the burgers, and they're great. Try one.
Café Rouge – Une tranche de vache s'il vous plaît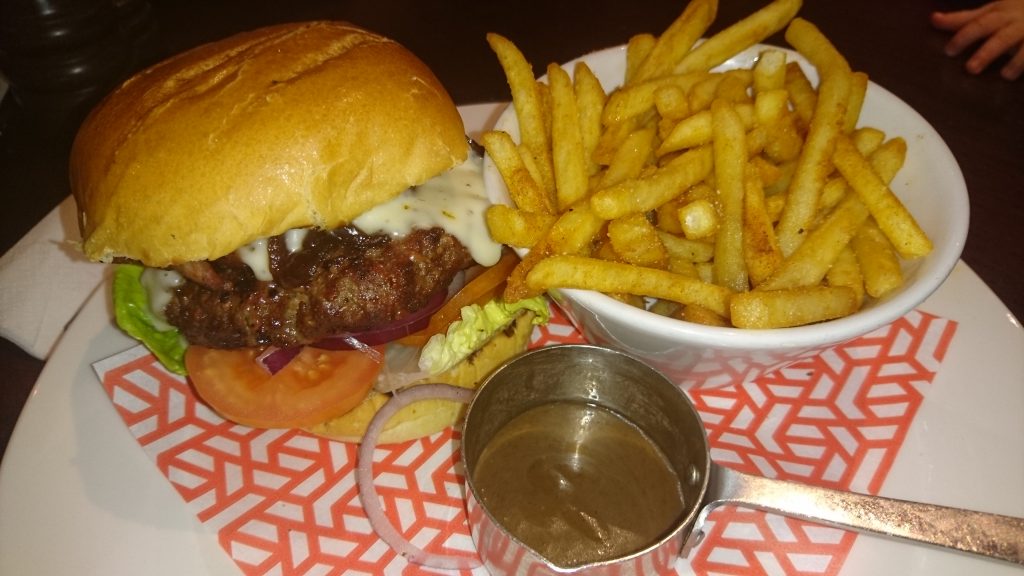 Food? Our provenacl-themed upmarket burger experience gets off to a good start as a perfect-looking portion of well-cooked, well-seasoned French fries arrive alongside the Cheltonian-French take on a burger (who had the following add-value description on the menu) – "NEW BEEF BOURGUIGNON BURGER – 6oz Black Angus beef burger topped with crispy bacon, red wine braised onions, Raclette cheese, Comté cheese & truffle sauce and a cèpe mushroom ketchup." Obviously that's massively pretentious, and honestly we didn't even notice most of the fancily labelled trimmings – in fact it could've been a bit cheesier. We didn't like the yellowish brioche bun much, which just about held together ok, but the mushroom sauce in the miniature serving pot added an interesting continental twist and flavour. We don't doubt the quality and it is homemade there – it all tasted great.
Price? Well you think it's going to be expensive, right? Normal price would've been £38.70 plus tip for our usual two cheese and bacon burgers, pint of lager and a coke. But bear with us;
In fact we got a Groupon voucher for 2 x two courses for £19.95
PLUS one each x £3 price increase supplements for the burgers,
so including the Groupon voucher ended up paying a total of £34.75,
AND I got a fiver back on my credit card as part of American Express's December Shop Small incentive
So total final actual cost after additions and deductions was £29.75 including our second course – which was a nice Crème Brulee!
Not bad! Although at first glance this seems like a fair bit of fannying about to save less than a tenner, but it goes to show if you are willing to engage in hunting for offers you can get a better price, an inclusive, delicious pudding and a pleasant dining experience in a place you might usually avoid purely due to perceived cost.
Venue? The Prom's premiere bistro sits opposite Cav House in sight of the Hare and Minotaur. Limited in size inside, it's worth booking ahead for a table at which to enjoy your high tea, continental cuisine and upmarket nibbles. Cosy yet bustling, it's drape-laden and woody – the sort of place you pray your kid will behave. Fully immerse yourself in the posh pretence of the fake-French!
Family/disabled friendly? Yes fine. Decent high-chairs available making it surprisingly family-friendly, and a large ground-floor disabled toilet with baby change tick every box here.
Service? Ahhh. Table service. A quality establishment. They take your order on a hand-held gadget to ensure efficiency. Friendly, polite and professional staff – nothing at all like Paris!
Can I get a beer? Yes. Pint of Stella please. Lowering the tone.
Pickle Test? No! Fail! You pig English! (Just kidding)
Review So you expect to pay a bit more for a dose of the Cheltenham's upwardly mobile glitterati's avantgarde high-tea hangout but we didn't feel desperately out of place eating our burgers with our hands and were made to feel very welcome. They even invited us back in the form of some sparkly money-off vouchers that came with our bill. Have we joined the elite? Café Rouge's take on a burger has a stylish spin and is one of the most original efforts we've come across so if you're feeling flush, want a taste of gay Paris or are able to get one of their frequent deals definitely give it a try for some Brexit-dodging joie de vivre.
Revolution – Worth the Wait?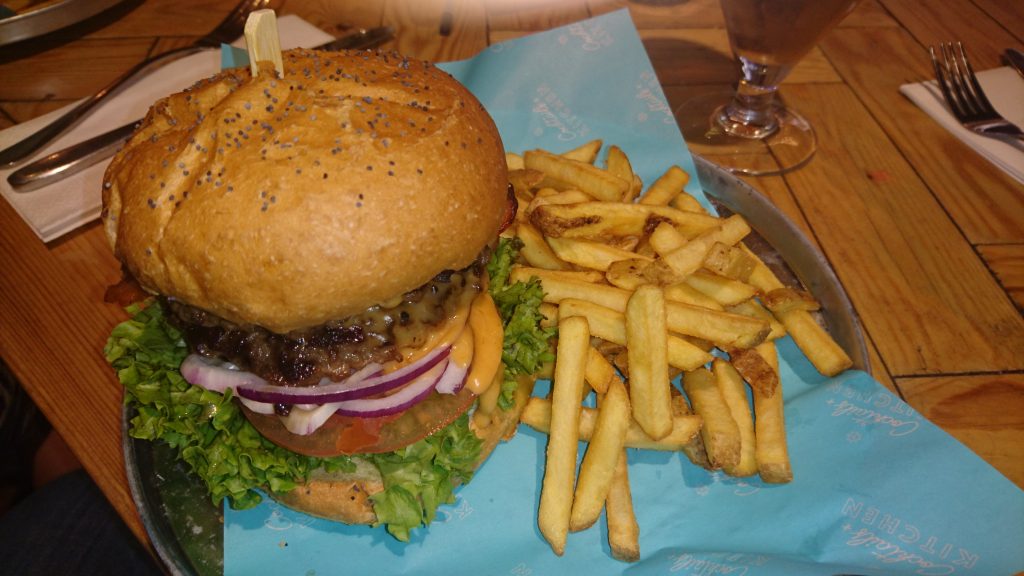 Food? A great result for Revs, very well presented, serving up great chips and a really tasty burger in an attractive poppy-seed topped bun (that quickly disintregrated into a total mess as was made of soft brioche – doh!). Did we detect a spot of freezer-burn on that bun?
Price? 241 on Monday nights at time of writing, so worth checking their promotions as they can deliver really good value. We went on a Thursday, so paid what we consider to be a still reasonable £25 for both of us.
Venue? It's great really. And novel isn't it? The old church? High ceilings and comfortable seats. But no outdoor space at all, and a little gloomy, especially in the summer. Needs people in there for any kind of atmosphere.
Family/disabled friendly? You can get in ok, but the loos are upstairs and license restrictions as a venue mean no minors allowed after 9pm. Probably not somewhere you'd think to take children anyway, which might be a daytime market they're missing out on.
Service? Relatively friendly, but slow, especially if they're messing about mixing cocktails. Promises to take the order at your table are broken, so you're driven to get up to order at the bar out of starvation, then end up going back to the bar to complain when they bring the wrong drinks or only half the round. Wake up!
Can I get a beer? Sure
Pickle Test? No! Sorry! We don't have any pickles! Disaster! Fail.
Review? Think less couply, and more group-of-friendsy. They're obviously used to be it being busy in Revs, so when it's quiet they assume they have nothing to do and you end up largely ignored, which is lazy, and a real shame. Generally excellent food is being let down by servers not taking responsibility, playing with their phones or showing no interest in the customer. We got our food before our condiments or cutlery – darn! If you're table-serving you're supposed to see how folk's drinks are going and they missed out on an easy opportunity to sell me another pint. Either table serve or don't, manage those expectations please, and your employer expects you to upsell where you can without being a nuisance. The food itself is pretty good, and delivers fabulous value if taken as part of one of their frequent promotions. If the place is quiet they need to be offering a great customer experience which is lacking right now, so that's what Revs need to work on. Find the right time between heaving and empty for the vibe and dining experience they're definitely capable of.
The Bottle of Sauce – Hipster Fun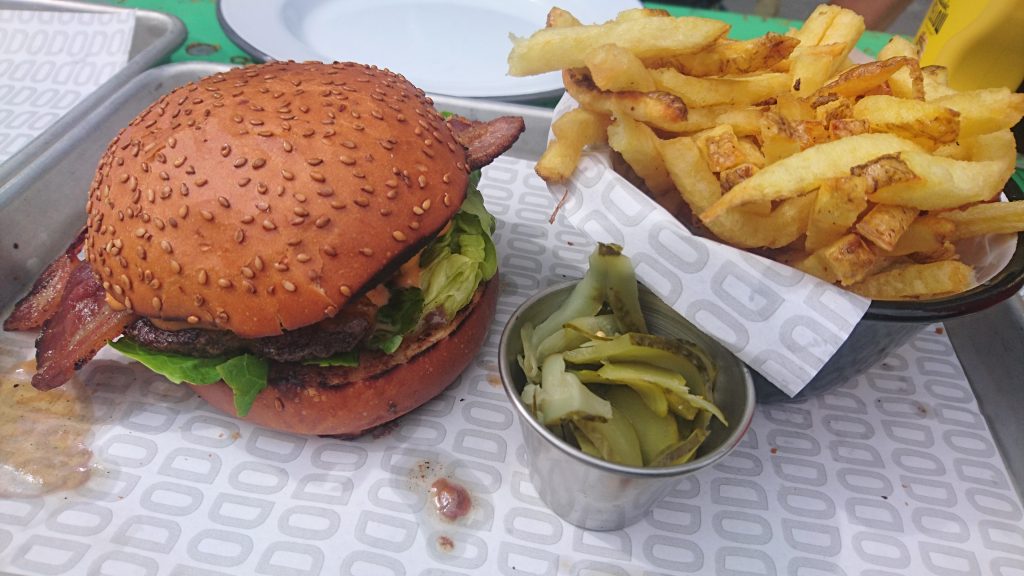 Food? A good looking, juicy, pink-in the middle burger and decent portion of seasoned, rosemary (supposedly) skin – on fries from Cheltenham's student favorite and upwardly mobile hipster haunt. We couldn't taste the rosemary on the fries, and bacon was extra but comes in 3 tasty-looking streaky rashers. Bun was sesame seeded, and one of the better brioche ones we've tried. A soft meaty, pink-in-the-middle burger that the small Dodo pub group are so proud of that they put their name on it.
Price? Taking advantage of their 'burger for a fiver' deal on a Monday lunchtime, and it is just that. The burger is a fiver. It comes with cheese and you pay £1.50 each for bacon. You pay extra for your chips. The fries had better be nice, as they're an additional £3.50 for the basic ones, and a couple of more expensive variants are on offer. So in fact even taking advantage of a discount offer our meal is rocking in at the Cheltenham average tenner – plus drinks each. Expect to pay even more at any other time. £3.50 for a pint of coke. This place is expensive.
Venue? A TV-free social pub – there's plenty of room at the Bottle of Sauce inside and out. Eat outside or in the dedicated canteen, because although there are tables in the bar it's often really busy. We went – as stated – on a warm Monday lunchtime, and it was very tranquil and idyllic. We were chased out of the yard garden by a number of angry wasps though.
Family/disabled friendly? Yes, great access and baby-change facilities. Top marks.
Service? Hipsters who seem to take themselves a bit too seriously. Our waitress was very nice though. All sauces and cutlery were in good order and on time.
Can I get a beer? Yes, fantabulous selection of beers you've never heard of.
Pickle Test? Yes absolutely, happy to oblige. Top marks here too. Pass.
Review? So if you can go when it isn't rammed the burgers really are very good at the shabby-shiek, Dodo-themed Bottle of Sauce. It's a little bit trendy, and their prices reflect this as they stride to sap those student loans down to nothing in short order. Their Monday lunchtime offer just brings their prices down to standard level one afternoon a week so go then when you're skiving work or lectures. Cheap ketchup and stealth taxes on extra chips are to watch out for here too, but the burgers are great.
The Old Restoration – Apparently Sweet Enough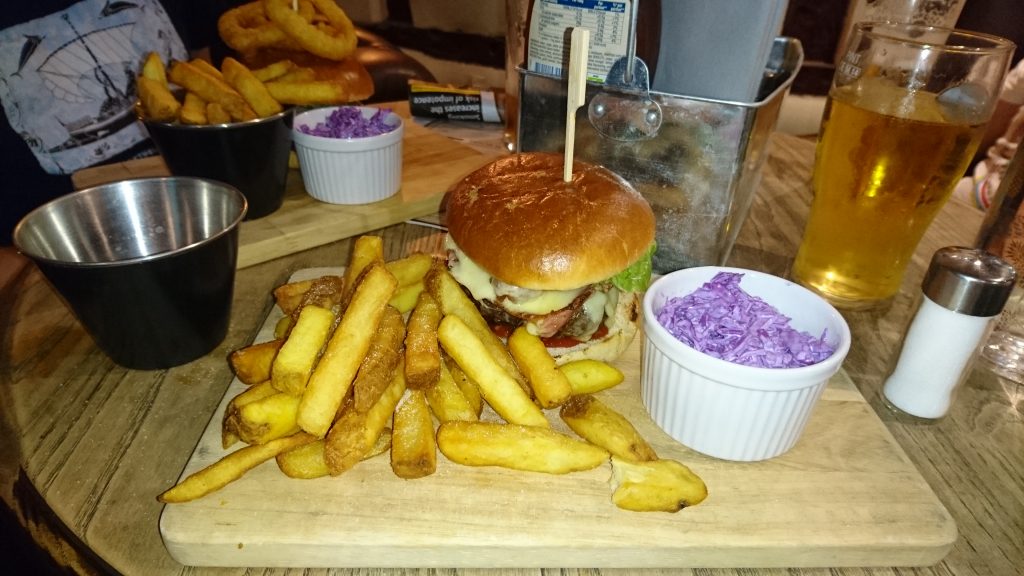 Food? Served on an irksome wooden board, the Restoration's skewered burger is actually really good. Plenty of cheese, maybe a little low on the salad. Excellent bacon. We liked the skin-on chips although thought the portion size was a little skimpy, and the accompanying huge helping of vinegary, peppery tasting slaw sets it off.
Price? £23:00 on their 'Burger and a Pint for £10' deal, Thursday nights– see 'can I get a beer', below.
Venue? Nice enough for a pub, with booths at the top and plenty of privacy-nooks around the place. The music was pleasing and noticeably just at the right volume.
Family/disabled friendly? A bit tricky to navigate but family-friendly on the whole.
Service? We had a choice of First Shift Guy or Android Girl. Android Girl, obviously an old hand, was talking First Shift Guy through the till when I approached. She looked at me analytically when I asked if the kitchen was open and just started robotically reciting the menu. As soon as I tried ordering food she lost interest, and strode off to loudly recite the menu to a different customer, leaving First Shift Guy to fend for himself, and he was quickly overwhelmed. But we've all done our first shift in a pub, and to his great credit he did his very best and was quite charming.
Can I get a beer? Yes. But bizarrely they refused to sell us a regular coke. They've stopped selling it, purportedly due to the sugar tax but we suspect because they've found the sugar-free versions are more profitable – which might be the same thing. This problem is to the best of our knowledge unique to the Restoration, and it completely enraged our regular coke drinker to the point that she had a pint of cider. Our price above includes this irregularity although it may not have mattered given the nature of the offer.
Pickle Test? If there were Pickles there, New Shift Guy couldn't find them. He did his best but failed miserably. A proud attempt but no cigar. Fail.
Review? We'd previously visited the Old Restoration some months previously and found it utterly lacking and languishing near the bottom of our list – so thought we'd give them another chance. They rocked in much better this time, with the so-called smokehouse delivering a really good, and well-textured burger, at a good price on offer or a reasonable price when not. Definitely worth a look.
The Brewhouse & Kitchen – Brassy & Classy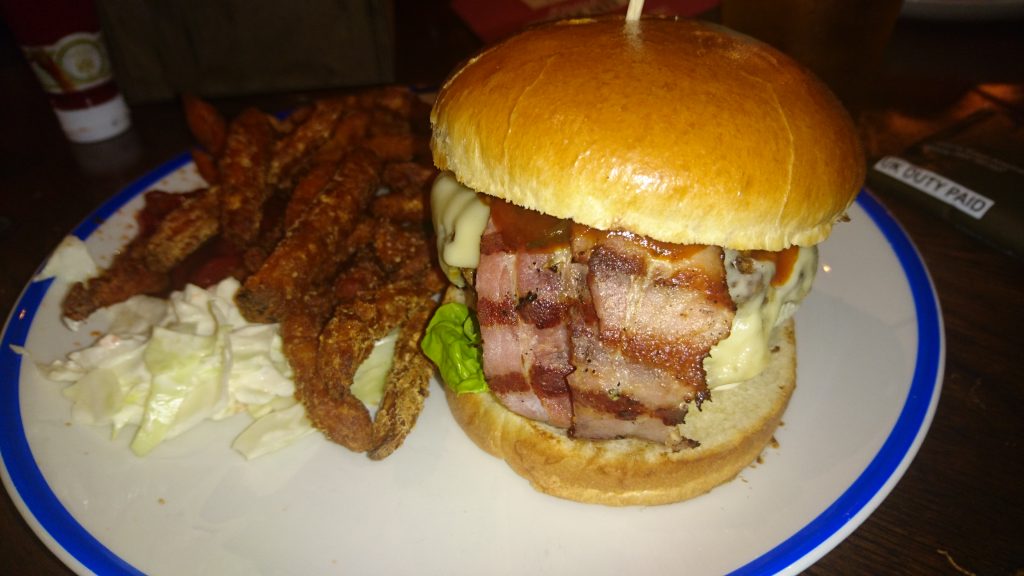 Food? A good portion of tasty chips, or a good portion of equally tasty sweet potato fries accompany a enticing looking burger and a side of slaw. We liked the flavour of the burger, but thought it a little dry, a little dense, a little like an Iceland premade patty*. We found the brioche bun outweighed the burger too, leaving you with a bitesize bit of bread at the end with no place left to go.
Price? £22.10 for both with a lager and a coke. Bargain as we went on a Monday and it turn out there's an unpromoted 241 burger offer on a Monday! Who'd have thought it? £1 extra for bacon.
Venue? Very pleasant. Well lit, brassy and classy. Our table was very much in need of a wipe when we sat down and we had to peel the manky menus off the table. Family/disabled friendly? Yes, plenty of room to get around and an outside area wins them points.
Service? Very good and knowledgeable staff, with 'order at the bar'. The food arrived suspiciously quickly and all sauces were quickly delivered as soon as the food arrived.
Can I get a beer? Yes, their unique selling point is plenty-of-choice yellow-topped beer pumps with tipples brewed right there on the premises. Lager and Cider also available too, so something for everyone. Choose wisely, or see what the locals are drinking.
Pickle Test? Nothing is too much trouble. No charge. Pass.
Review The beautiful Brewhouse and Kitchen is obviously a most welcome and standout venue in the Brewery, and they have the offer price day, the excellent staff and the raises-expectations regular price point of £11.95 for a cheeseburger and chips. But the overly firm burger lacked texture, and the bready brioche and the sticky table lets them down. Wouldn't want to pay full price.
*This page has absolutely no problem with Iceland burgers, we buy them and eat them. But we review restaurants here and expect something we couldn't easily make at home for £2:00.
TGI Fridays – America! F*ck yeah!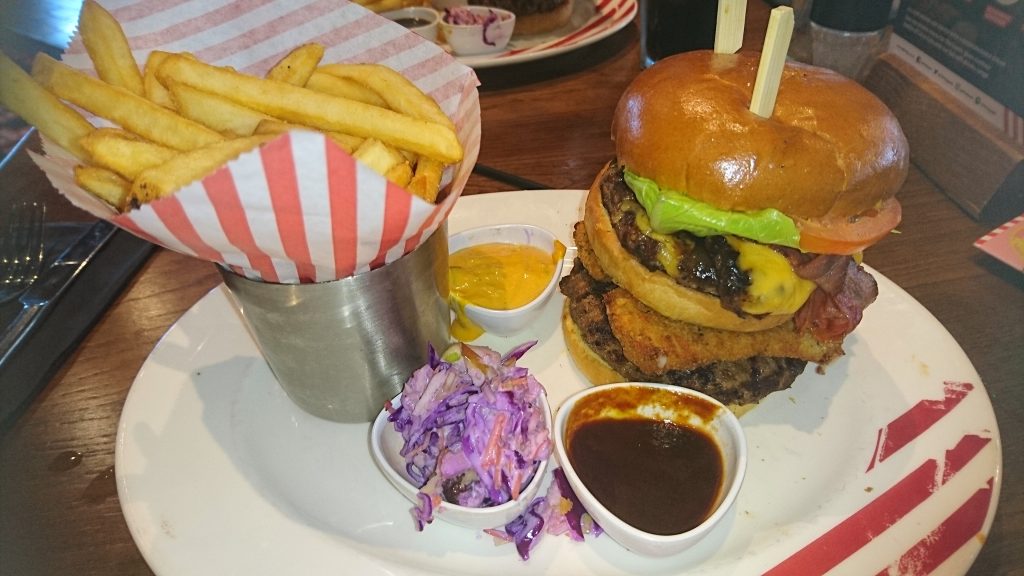 Food? Handmade, yes, served in the yankee brioche bun we're getting so used to seeing around, yes, a decent portion of chips, yes. This particular burger, the 'Warrior', was the equivalent of 'doubling up' but came with a slaw we didn't like, a totally pointless extra half-bun which we disgarded, and two slabs of presumably fried breaded cheese which one of us didn't really like that much, and some American dippin' cheese for the fries. The burger itself was meaty and good, we noticed a really good quality, fresh salad, and there was no shortage of cheese or sauce.
Price? £38 for both of us, or £15.79 per burger. A cheaper cheese and bacon only option is available. Fine for a table-served place that's always been more of a restaurant than a bar.
Venue? Up on Lansdown Road, and at the outer edge of our limits for this list as being required to be walkable from the town centre. A large, centrally-barred building with ample parking. The music is played too loud for a Saturday afternoon, probably to try and create an atmosphere that isn't really there.
Family/disabled friendly? Family-friendly of course, but multi level restaurant demands some negotiation if you're on wheels. Our arrival with a pram – alongside a request to sit away from the bawdy birthday groups threw the concierge off completely. Despite our sleeping baby he simply couldn't bring himself to allow us to sit in any of the plentiful and spacious 'closed areas', which looked peaceful and inviting. We chose a table which had been recently used and he seemed utterly crestfallen at the prospect of having to clean it for us, to the point that we gave up and just sat somewhere else ourselves. Chaotic.
Service? Fast, but we felt somewhat neglected. I opted for a 'bottomless' Fanta rather than the pint of beer this time (see 'Can I get a beer' below), but it had too much ice and I had to go to the bar to get it filled myself (twice). The staffmember was well presented and friendly, and we got all our sauce, cutlery and food in the correct order and after a not-unreasonable wait. If you pay by card your tips are taxed and they only get a short %, so if you like your waiter, leave them cash.
Can I get a beer? You can, but when we went (end July 19) there was NO draught at all, so the only thing on offer were massively overpriced bottles. Think £4.90 for 330ml. No thanks. I'd been really looking forward to a pint. Boo. No chance of a bottomless normal full-fat coke either, sorry! You have to buy that in tiny overpriced bottles too. At least they're merking drinkers and non-drinkers equally.
Pickle Test? No! Denied outright, TGI's is a pickle-free zone! Sorry, pickle fans! Fail.
Review? TGIS is a restaurant, and a table-served one at that so whilst you expect to pay a little more we have to judge them to a higher standard than your regular burger joint or pub. As such TGIs doesn't quite live up to its promise of being a classic American-style diner. Whilst the burger is pretty good and the kitchen seems to work well, the front of house is a little disorderly, the service is just a little ropey, the music just a little loud, they don't have your beer, and it has more of a feeling of a 'get-through-the-day table-turning breadline' than the cosy, busy, family-friendly restaurant it sells itself as. Rough around the edges.
JD Wetherspoon – The Moon Under-the-Water – We Can't Believe It Either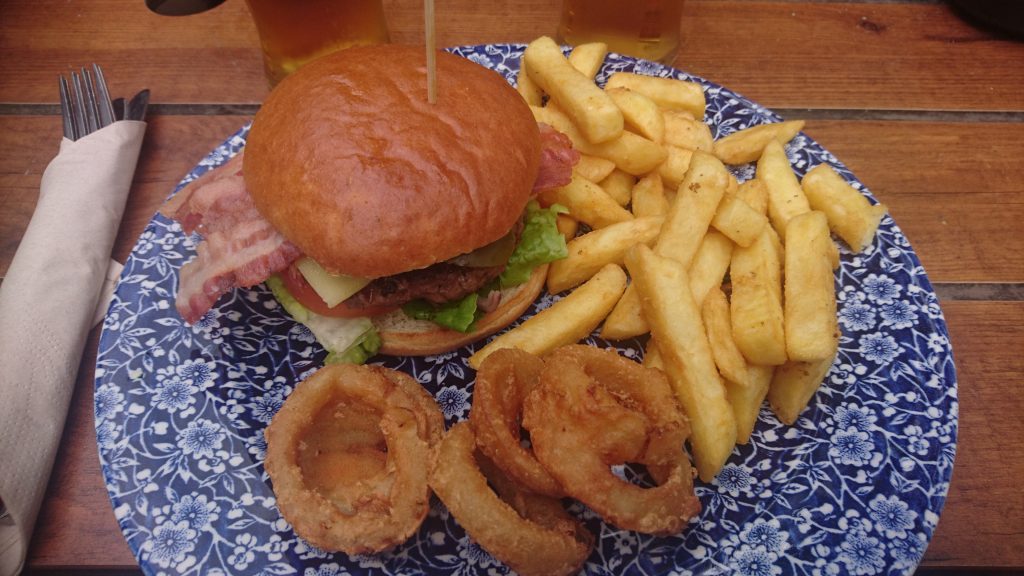 Food? No it isn't handmade or locally sourced, and Wetherspoons won't stand on ceremony – so how have they gotten so far up this list? Well – It's a surprisingly tasty burger. Good options to double up and a list of optional extras top up the solid and familiar menu. The burgers here are much better than those of sister pub the Bank House, and the fries are a decent-sized portion and actually taste great.
Price? Approx £15 for both of us, using the burger and drink deals on the menu. Undoubtedly a bargain.
Venue? Ok really! Sprawling and flat with lots of seats. Less dingy than some other Spoons we could mention. Lovely riverside garden if you can get a table and can cope with fag-smoke – No smoking outside seating available out the front.
Family/disabled friendly? Within reason. Good access, but let's be honest, most of Wetherspoon's usual clientele are slobbering chavs, students, deadbeats or lonely old men. Oh… and us. We come here. This is because Wetherspoons is a victim of its own success, delivering rock-solid value and the skintest in society will always seek this out. And who can blame them? Count us in! Probably not the first place you'd bring young children, and avoid like the plague if there's a sporting event on.
Service? Excellent. In stark contrast to the Lansdown (for example) the staff work hard but are friendly and the food comes out at super speed. Good work! The incredibly lazy customer can order from your table using their app, but we will always spurn technology in favour of dealing with a human so we order at the bar.
Can I get a beer? Of course, excellent choice of very cheap ales too, and they're relaxed about the selection of drinks included in their 'beer and burger' deal. Definitely no complaints here.
Pickle Test? Happy to oblige! Pass! Wow.
Review? You think you know what to expect from a Wetherspoons pub. Cheap and cheerful? Maybe. We argued about this one because it isn't handmade but Wetherspoons doesn't pretend to be anything fancy so we judge it with that in mind – and this is a very well-run branch. They always seem to get everything right. The burger tastes good. No quibbles on and plenty of the correct Heinz ketchup, Hellmans mayo and Colmans mustard, all round good service, a nice outside space and a smashing price point, and (we'll say it again) surprisingly tasty – although remember these burgers aren't locally sourced or hand-made so do avoid if you're looking for really meaty authenticity. The Moon Under the Water only is let down only by its lairy, chav clientele so carefully choose when to go for a pleasant, fast-delivered and great-value burger.
Babel – Trendsetter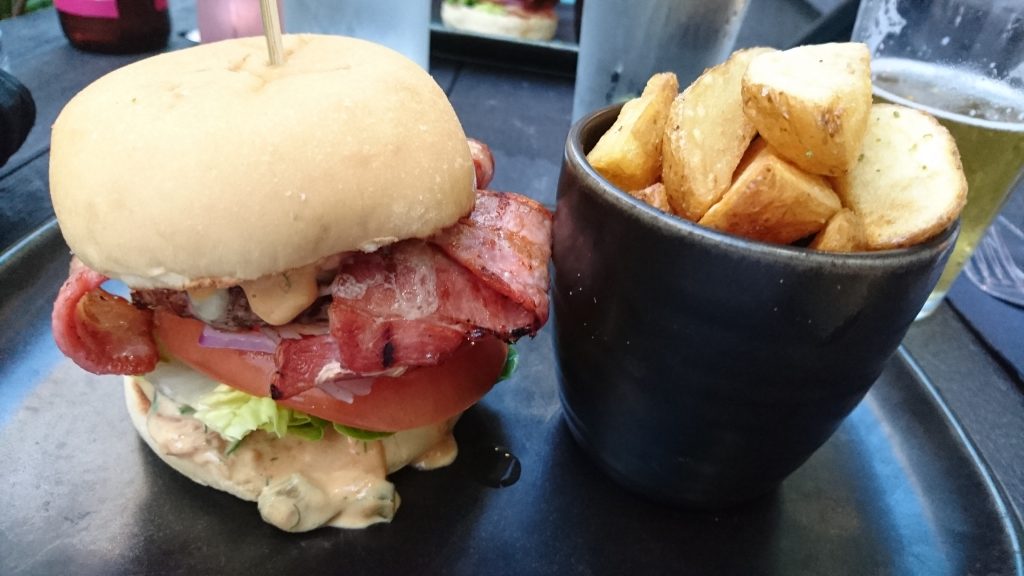 Food? It is a homemade, well sized and made patty, tastes satisfying and is served with a good, fresh salad choice including a big slice of yummy beef tomato – but in an untoasted far-too-soft-brioche bun that completely disintegrated half way through causing bits of food to land on the plate (and elsewhere) with a splat and cover our hands and (both of) our clean clothes in burger juice and sauce. We hate this, especially as it was early evening and we'd actually dressed up, and couldn't have continued a night out wearing our food. There's also a difference between skin-on chunks of cooked potato and proper chips. These were the former, and we just didn't like them, sorry. Undercooked and no seasoning at all.
Price? £26 plus drinks, not bad for the Brewery.
Venue? Very pleasant. This large, spacious area has tables scattered across it and includes a decent-sized outdoor space, in the Brewery. Good ambience.
Family/disabled friendly? Yes definitely, which is good to see. Babel is all on one, flat floor, has plenty of space, and a large, clean disabled toilet and baby change facilities and high-chairs.
Service? Slightly chaotic, we had booked ahead and although it was quiet it still would've been nice to see an effort made to actually reserve us a table. On arrival at the bar you're given a menu and asked to take a seat at which point table service is actioned. Cutlery was brought out after we ordered, but nothing else made to the table until after our food arrived. Our waitress was friendly, well-presented and efficient, did her check-backs fine but was confused by our requests for ketchup and brought tiny metal bowl after tiny metal bowl. Leave the bottle yeah? We also had to ask twice for salt to fix the unseasoned chips. So condiment issues made her job trickier. After she'd established we didn't want a pudding (nothing chocolately enough on there for us) we were completely abandoned, so went and paid at the bar in the end.
Can I get a beer? Yes, plenty of choice
Pickle Test? Yes no problem! Well done! Pass.
Review? Take or ask for extra napkins! Walking home from the Brewery covered in your dinner at age 39 is not a good look. We are self-confessed sauce fiends but most often can keep it together, and since we both got splattered the blame here lands squarely with the bread, which ruins the experience. Sort your buns out, Babel. The burger itself, the price and the venue are all good, and it might be an unorthodox but excellent choice to take a family for a meal given the space and accessibility here are as good as any. But if the chips aren't great and the messy burger falls apart Babel really risks it's date-night ambience and pre-drinks dinner market. A few tweaks could make this the best of the Brewery, but check those fundamentals! We'll be watching.
Smokey Joe's – Thanks for the memories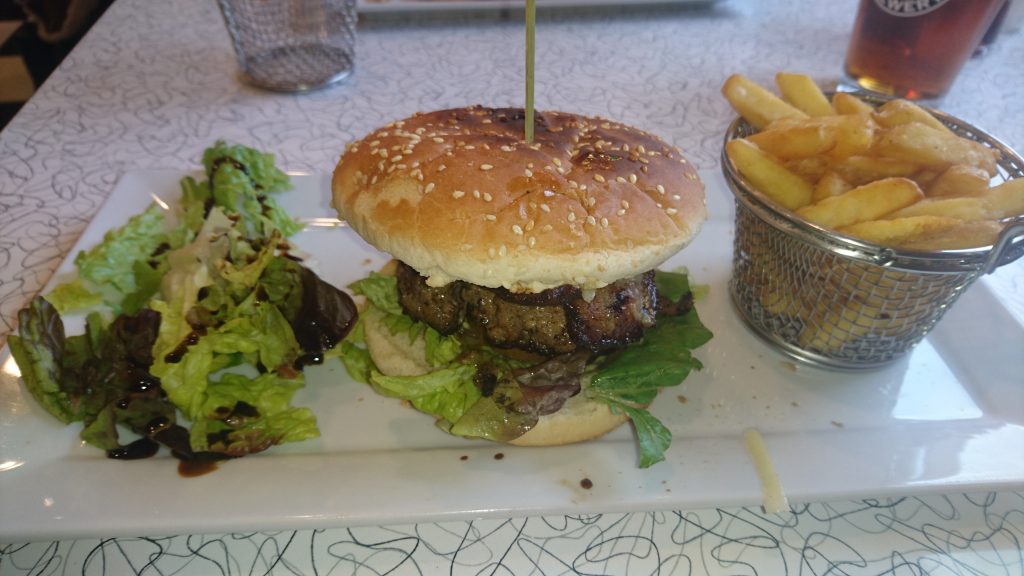 Food? The meat itself has a herby, homemade taste and is chunky and tasty. But it was slightly charred on one side, and the correct sesame seeded bun – whilst they'd gone to the effort of toasting it – was a bit squashed-looking and also a little overdone. It came with no sauce, and a fresh but miniature salad with no onion. There's not enough cheese and it hadn't been given a chance to properly melt. You've already paid, and for some reason start to feel uneasy. The bacon is mysteriously and simultaneously undercooked on one bit and incinerated on the other. A strange balsamic-coated side of lettuce looks uncomfortably up at you from the side of the plate – daring you to wonder if they could or should have made some coleslaw today. This is all accompanied by a frankly measly portion of chips, which one of us liked the taste of but the other thought was also cooked for just that little bit too long. Apart from the texture and flavour of the meat, which is obviously good quality, this is disappointing across the board.
Price? A higher than average £33.30 for our usual two Cheese and bacon burgers, regular chips, a coke (small bottle) and a pint of lager.
Venue? Hidden away and surprisingly big inside, Smokey Joe's is Cheltenhams' own coca-cola-branded miniature monument to 50's Americana. Known as a bustling hangout for the socially active with a lively nightlife, a central kitchen is surrounded with a diner-style seating area and plenty of nostalgic décor really sets a scene. On the other side a sizeable arcade of arcane amusements sits opposite an airy recreation area. No wonder Cheltenham's hippyish avant-gard spoken-word enthusiasts and arty types gravitate and hover here. A real treat.
Family/disabled friendly? You can get in and out ok as wheelchair ramps are provided. A flimsy over-the-toilet changing table crammed into a cubicle suggests just a hint of family facilities. But kids will love the décor – provided – as several signs demand – they are properly supervised. The hand soap had been watered down – gross.
Service? Somewhat chaotic. They're friendly, but on ordering at the bar I was given my beer and told he'd bring the coke to the table. Which seemed weird, as they were quiet and he could have just grabbed it out of the fridge, popped the top, given me a glass and that would've been that. So we waited for it at the table for 15 minutes and I went back for it – at which point he just grabbed it out of the fridge, popped the top, gave me a glass and that was that. None of the condiments were on the table before the food arrived and they had to hunt around for a bottle of vinegar. We were also given a massive family-sized bottle of ketchup which is a bit cumbersome for burger application in a café diner. Needs streamlining.
Can I get a beer? Yes, a couple of lagers on tap.
Pickle Test? No and none in the burger. Fail.
Review We went to Smokey Joe's on a quiet day and with an open mind so they had every chance to impress. They rave about their burgers and all the food is cooked to order – you get fair warning that because of this it might take longer to prepare than you'd expect. But this longer than average wait and higher than average price both lead to a raise in expectation that promptly crashes and burns when your unfortunately lacklustre meal arrives. So the food and service at Smokey Joe's –as well as the décor – are disappointingly still entrenched in the last century. If you're offering to cook quality ingredients from scratch at a higher than normal price point then the customer expects individuality and originality throughout, and the last thing you expect from an American-themed place is no pickles and a skimpy portion of fries. We so wanted it to be great as we're here to champion Cheltenham's independents and this above all places is crying out for an exciting, in-theme burger and chips – but sadly for now a couple of cut-corners mean there's way better to be had for less money further up this list. We do love the venue and the vibe and will definitely head back there as which time this review will be updated.
The Lansdown – Big Shoes to Fill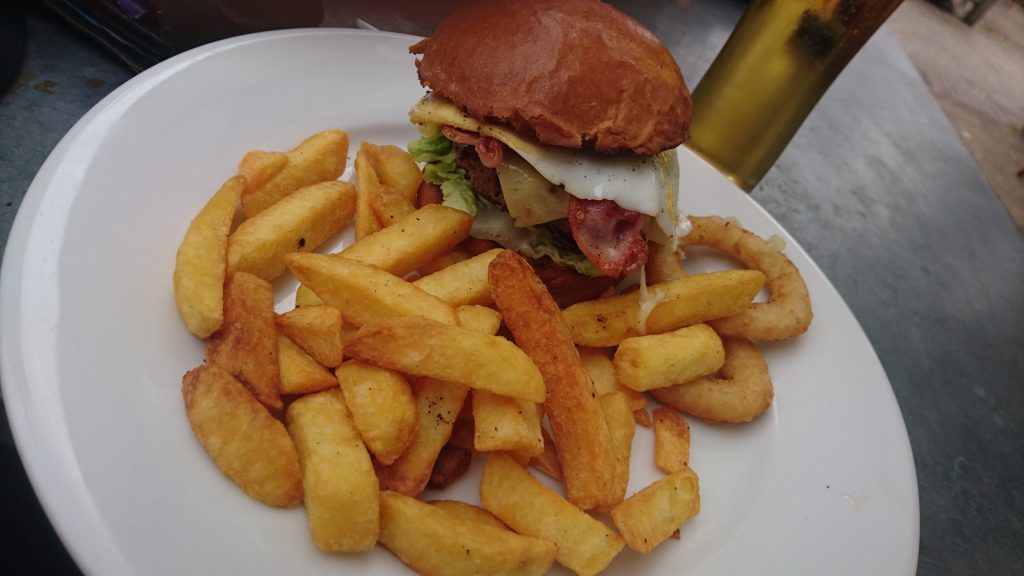 Food? On a previous visit we had enjoyed a genuinely and surprisingly excellent burger, and we had said so at the time which we were told had 'cheered up' the chef! This had put the Lansdown's burger at a solid 2nd on our list (believe it or not) but at time of writing this was the oldest review on our list at a little over 6 months, so we thought it was time to revisit them for an update. So excellent chips are accompanied by an attractive, tasty burger with cheese, bacon and (in this case) an egg and two onion rings. If they upsell you a portion of onion rings for £1, you can only expect to receive three. Our burgers came with onion rings, and we got two each. A radiation-neon yellow brioche bun was something we found pretty offputting.
Price? Approx £30-£35, a little high for a pub, bucked up with overpriced drinks.
Venue? Plenty of nooks offer privacy and a really nice outdoor space is ruined by too-short hedges which if higher could be blocking wind, pollution and a monstrous view of the Lansdown Petrol Station. Problems maintaining a large garden on a main road aside, the tables clearly hadn't been cleaned for weeks. The loos smell. The bar was sticky – and the place was quiet. This place needs a deep clean.
Family/disabled friendly? Yes, but avoid like the plague when there's sport on. there's a wheelchair lift although we've never seen it used.
Service? Notoriously bad. The one hapless barman spent ages determining that they'd run out of something another customer wanted, and the only three people in the bar were waiting more than 10 minutes. Total lack of training means it takes AGES to get served here, even when they're not that busy. Can't pour a decent pint. Checkback happens, if at all, after you finish your food.
Can I get a beer? Of course. Peroni is very pricey here and very few decent cask ales (and zero local beers) is a complete missed opportunity. One of course that Greene King have no interest whatsoever in addressing.
Pickle Test? The burger is listed as including pickles on the menu so we assumed no problem, and the friendly yet hopeless barman took his sweet, sweet time about emailing the kitchen an essay to ask for them when we put in the request. However when the food did arrive and we queried the complete lack of pickles at all we were told – sorry, they didn't have any. Epic fail!
Review? They had a great chance as we went on a quiet Sunday afternoon when there wasn't sport on, and as a Greene King thought we'd know what to expect – average. We're not usually a fan. They're a brewery chain that buy up good locations and insert their brand of faceless, corporate pub or sports bar and just sit back and hope for the best, neglecting the details. There's a lack of local beers, the service is bad, but on this occasion when the food did arrive it was quality pub fare. The kitchen at least have it right. Good chips and a well-presented, decent burger are offset by a below-par level of cleanliness inside and out, slack service, and slightly too-high prices.
The Miller – In a Crowded Moo-ket.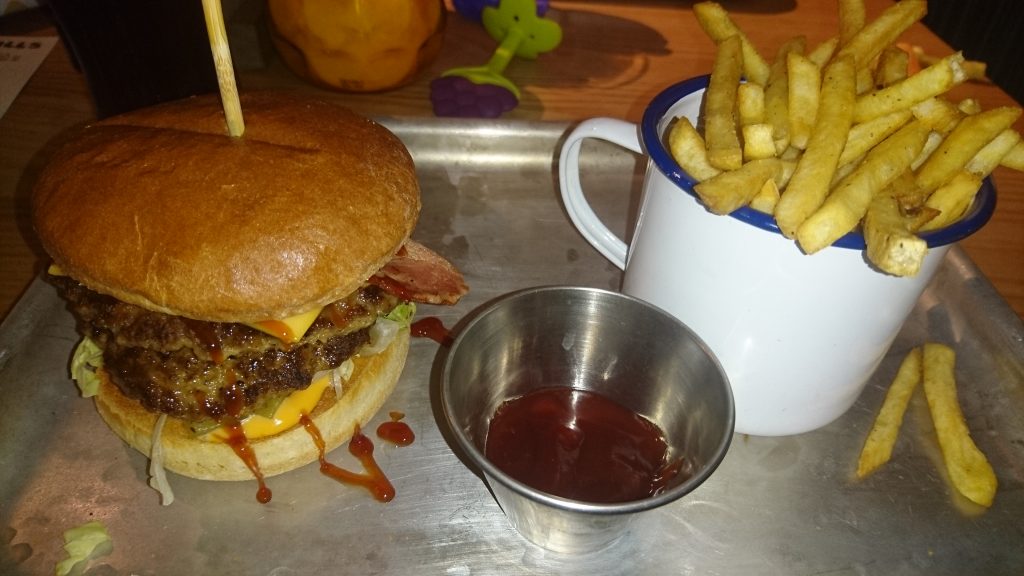 Food? Two small 3oz pattys replace the more usual 6oz single one – a trait we're seeing more frequently, possibly due to a reduced cooking time. Taste was ok, although we felt it needed more seasoning. It and arrives looking tidily presented albeit somewhat miniature. The bun was hard and dry though and one bog-standard cheese slice doesn't stand on ceremony. The bacon was ok and it was slightly low on salad – one of us felt our burger was a little underdone/not hot enough. Accompanied by a decent sized-portion of well cooked chips and a little pot of BBQ sauce, there's plenty going on for the price.
Price? They have a Wetherspoons-style burger and a drink deal, so £8.95 with the beer, and £7.95 with the coke. £16.90 altogether with their 'Big House Burger' which already comes with cheese and bacon. A bargain really!
Venue? This latest revamp is pretty nice, and has loads of TV screens and an area toward the rear with booths and games consoles you can play on. Spaciously laid out, there was a leak in the ceiling near where we sat dripping into a bucket. It wasn't busy when we went, but there was sports on so huddles of lads made more than enough noise to create an atmosphere. Whether that's the sort of noise you want to hear while you're having your lunch is a matter of personal taste.
Family/disabled friendly? Quite literally the first and only place we've visited with no high-chairs available for a kid. There are ramps ok and a disabled toilet, but no baby change facilities at all. Looking around at the abundance of what must've been expensive tv screens on every wall – they've made their choice loud and clear. They'd much rather have the shouty football and rugby lads in there than families. A shame.
Service? Order at the bar, ok. Food arrived fairly promptly and the staffmember was friendly. All condiments present and correct, but we had to ask for napkins.
Can I get a beer? Yup
Pickle Test? Pass! They came finely diced though. No need to stand on ceremony eh?
Review So it's been Chicagos, the Boom Bar, Fez, Kukai, Bierkeller, then it was Moody's (who's burger we reviewed – and deleted when they in turn shut down), then it was the Bierkeller again, and for now it's The Miller. Can the most recent iteration survive? This latest reincarnation of a sizeable venue is pleasantly decorated and delivers a very well-priced, decent albeit underseasoned burger offering, with good chips. Considering the local, tight-packed competition some slight improvements need to be made – in particular to the bun. Obviously not family friendly at time of writing, which almost flies in the face of the computer games area at the rear. It's a stab at a sports bar slash student hangout, and we think they might've missed the mark slightly there because there's little to separate it from the far-better established budget-king Wetherspoons and the Spectre a stone's throw away. It's nicer inside though (apart from the leak) and all the places at this end of town are more grown-up so rather than try and carve themselves a family-friendly niche here – which might've been more exciting – they've emulated the others – placing themselves squarely in the centre of a very crowded market.
The Spectre – Ghosts of the Past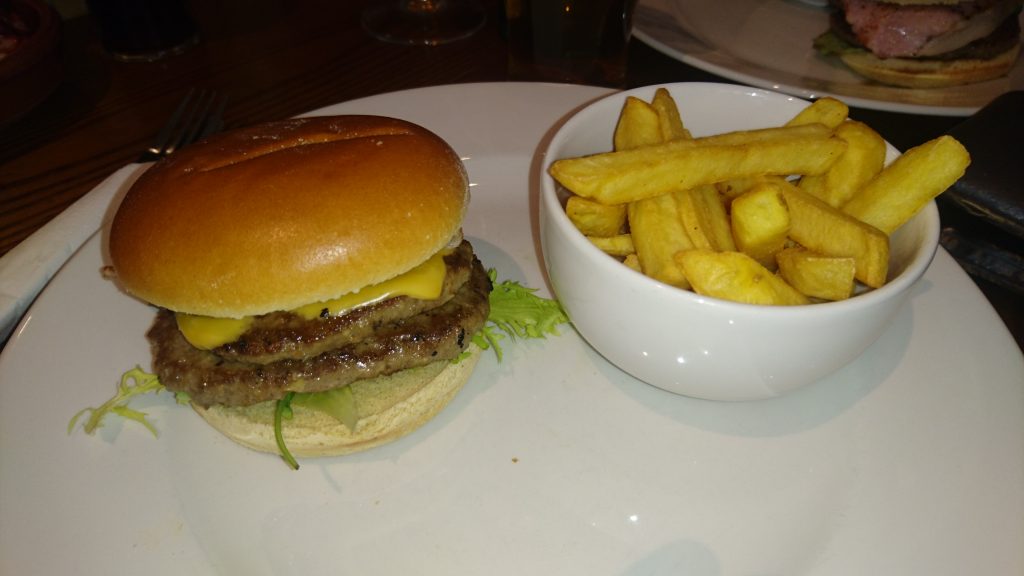 Food? Double burger as standard, with good-value options to triple or quad it too! Well it isn't home made or locally sourced, so move on if you're on the hunt for that massive and more expensive wholesome dining experience – but here a tidy little double burger arrives accompanied by a side of fries and looks up from the plate at you hopefully. Said side of fries is a little skimpy for our tastes. The flavour isn't bad at all in fact, but there wasn't any onion, pickle – or for that matter salad of any kind. We didn't like the plain brioche bun that much, but overall the burger itself is a very pleasant surprise.
Price? £10.48 for both of us with a pint of good ale and a coke. Undeniably a bargain and possibly one of the best deals we've found.
Venue? A lot brighter and more welcoming that it used to be inside the pub, a small outside space on the high street if it suits you. The toilets – both ladies and gents – are revolting. The worst we've seen. Yuk.
Family/disabled friendly? Not at all! High chairs are available, and there's a kids menu too but nothing in the way of baby change and the noisy, sporty clientele will put you off taking your kids here on anything but the quietest afternoon. Given that state of the loos here we wouldn't recommend bringing a young child here for hygiene reasons.
Service? Order at the bar but the wait wasn't long and the staff are friendly and well-presented. All the correct condiments arrived well before the food, well done there.
Can I get a beer? Yes. The lines are clean and the beer tastes good. I had a pint of Hobgoblin Gold. Yum.
Pickle Test? Flat out denial and protestations about stock control. The burgers are listed on the menu as including pickles but there were none in our burger either, making his argument even the more laughable. Here's a hint – give the customer what they want! Especially if it's easy and they're willing to pay! Cements the cheap and cheerful reputation. Fail.
Review We'd been putting off our review of the Spectre as the last time we'd visited some time ago it was a thoroughly dingy, harrowing haunt full of broken men and broken promises. They've since brightened up the décor inside somewhat, and despite our preconceptions we enjoyed the burger and the ale. So the bar know what they're doing and the kitchen seem to know what they're doing apart from the pickle debacle and lack of salad. A fun menu where offering a personalised buger experience will always go down well with us – so the gentrification of the former Hogs Head has slowly taken form and they offer a decent product but the ghosts of the past still haunt them – they really need to sort out the toilets, because something that disgusting raises questions about hygiene. The Wetherspoons-beating prices were a genuine surprise, there's a decent selection of drinks included in the offers and we were quietly very impressed with the say-it-on-the-tin plain and simple, decently cooked, quickly delivered food. Very good value for money, and fine for a swift pint and a bite to eat if you're in town without a family in tow.
The Feathered Fish – Cheap and Tasty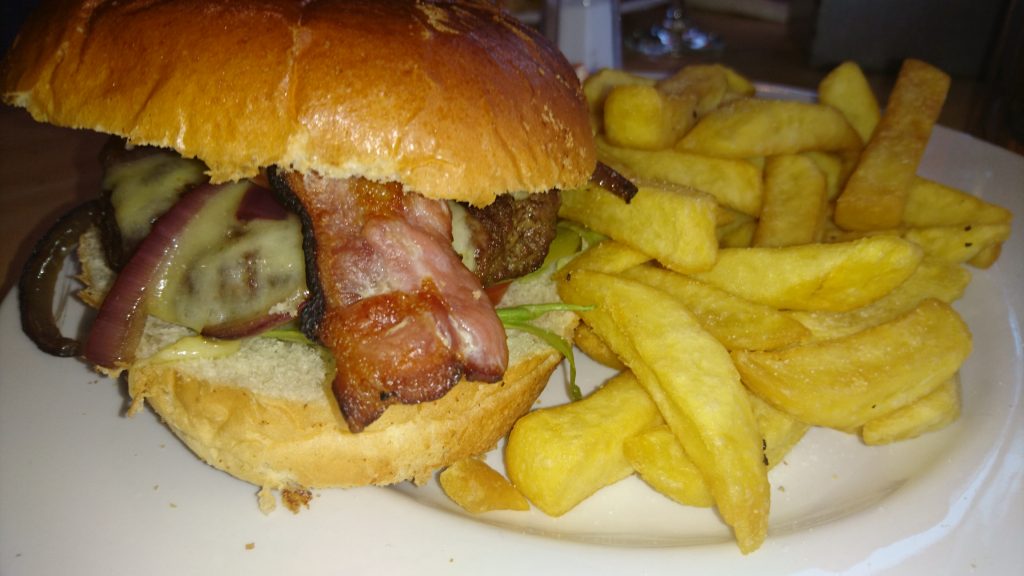 Food? A slightly amateurish-looking, no fuss burger and chips from the Feathered Fish, coming with a generous portion of decent, ever-so-slightly undercooked chips. One of us thought the burger tasted a little lamby (perhaps their choice of seasoning?) The other thought the burger was really tasty though, and if you can get past its thrown-together, slightly squashed appearance, you'll enjoy it. Especially at this price.
Price? Taking advantage of their fabulous 241 offer on a Tuesday night offer, this rocks in at a bargain basement £10 for both burgers, plus your pub-price drinks. One of the best value deals we've come across. Cheese and bacon are extra, mind, and you only get the one slice of somewhat charred bacon – which seems a little skimpy. So about £18-£20 all in. Not bad at all.
Venue? Formerly the Conservatory, not much has changed. Darkish décor and nowhere to sit outside anymore though, which is a real shame.
Family/disabled friendly? Sure, why not? Toilets are downstairs, but the pub is generally flat, although narrow areas make negotiating around with a pram or wheelchair tricky. Generally a local place, so safe enough for kids if you avoid the busier weekened/evening slots.
Service? Slightly chaotic, but generally friendly and obliging.
Can I get a beer? Yes
Pickle Test? Happy to oblige. Pass.
Review? Get in there on a Tuesday night between 6 and 7 o'clock, and book a table in advance if there's several of you as – bizarrely – they hold a busy quiz starting around 8 on that very same evening (and many of the quizzers have tables reserved). Stay for the quiz if you like, but we're here for burgers. And for a pub grub burger at a bargain price, there ain't much cheaper! If you haven't visited the Feathered Fish before, give it a try!
Taylors – Sing – When You're Winning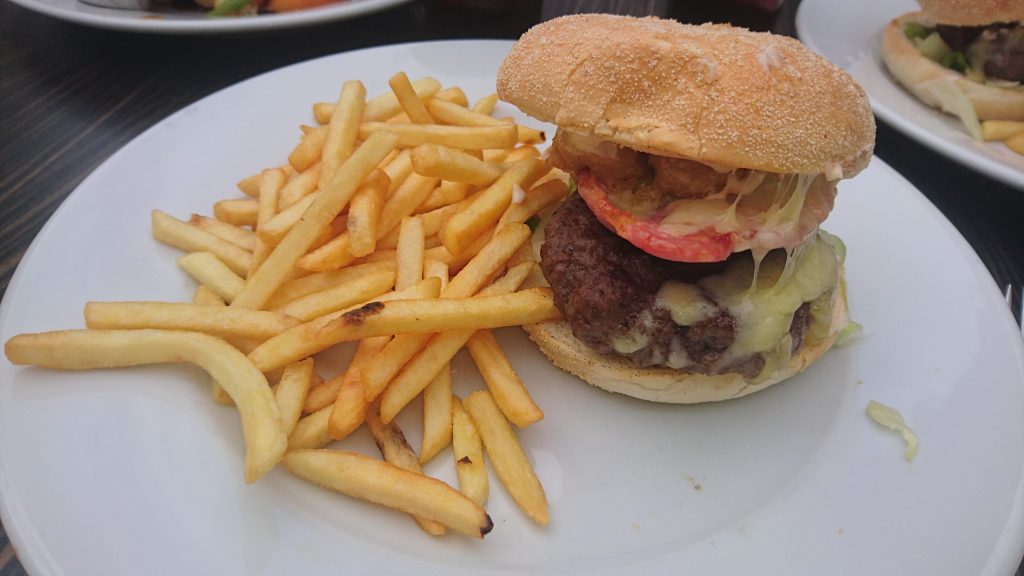 Food? We felt the meat element was a little small in this burger, but it was pretty good otherwise, with goopy cheddar cheese and a really tasty bun. Pretty sloppily presented though, it comes with a large portion of skinny fries, and we'd usually prefer the thick-cut pub chips we saw heading out to another table. Maybe offer a choice if you're making both anyway? A bit low on bacon too, but there was some twisted slimy thing in the burger we took to be an attempt at a battered onion. Or something. Horrible. 'summer slaw' was listed on the menu but not to be found on the plate.
Price? £25 for the burgers, plus drinks. Competitive for the town centre.
Venue? A Lovely leafy town centre pub with large outdoor spaces up front, and a central bar inside. Avoid if there's a sporting event on though as it gets really busy.
Family/disabled friendly? Outside is, just about, but you wouldn't get a wheelchair or buggy up the steps inside the pub, and it can get heaving in there so not somewhere you'd consider taking kids really.
Service? Everyone we dealt with at the bar seemed competent and friendly enough. See 'Pickle Test'
Can I get a beer? Yes
Pickle Test? The menu stated the burger came with pickles and 'summer slaw' but ended up coming with neither. We asked after our missing menu items, and got a disgruntled shrug. He did disappear presumably off to the kitchen to ask, and just came back apologising. No discount or recompense offered. Fail.
Review. To be fair to Taylors it was pretty busy when we went, and we sat out the front in what is quite a pleasant space. You'd think a sport-orientated pub might've mastered the humble burger, but marketing itself as an 'Eating House' it has a lot to live up to and a slightly undersized burger is a bit disappointing, and missing listed menu items off the meal and not rectifying it when challenged are pretty unforgivable. There's better to be had within walking distance.
The Bayshill – A local Pub for Local People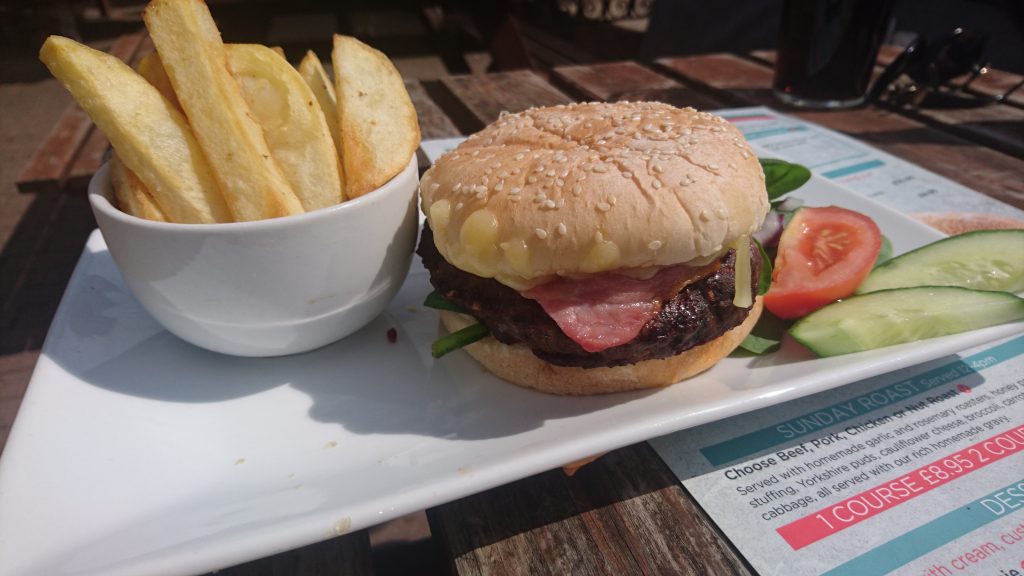 Food? A quality, butcher-sourced, well-textured burger is served in the correct sesame-seeded bun with a slightly mean portion of really nice chips and a decent side salad. But we felt the burger was just a bit overdone, and the bun looked a bit freezer-burnt. Cucumber is an odd choice of side for a burger, and just doesn't work. A tiny afterthought of diced onion on the plate isn't enough, we like our bit of onion hooped please.
Price? £9.50 for your cheese and bacon burger, so a competitive £26ish for both of you, including your drinks.
Venue? It's a decent pub with a decent-sized beer garden, plenty of choice on tap. Pay and Display car park out the back too, if you're driving.
Family/disabled friendly? Yes, through the garden, with one step up into the pub. Baby change facilities or a disabled toilet don't exist. Families do hang around here but maybe avoid bringing children weekend evenings due to a lively atmosphere.
Service? Pretty good. Bar staff are friendly. All the correct sauces delivered in bottles to the table before the food arrived.
Can I get a beer? Yup Plenty of choices, led by Wandworth ales.
Pickle Test? No! Denied. No pickles here, sorry. Fail.
Review? On paper the Bayshill does everything right, but misses out on the small details. It's unexciting, a non-event. Our excellent quality burger was slightly overcooked (and they shouldn't be shy about serving that a tad pink), our excellent seeded bread bun freezer-burnt. The afore-mentioned cucumber didn't know what it was doing there and adds nothing. They have the venue, the service and the ingredients, they just need to pay a little more attention when it comes together in the kitchen. Plenty of worse places to take the family though and there can be a really fun local vibe in there. Give it a go.
Burger King – A Welcome Return?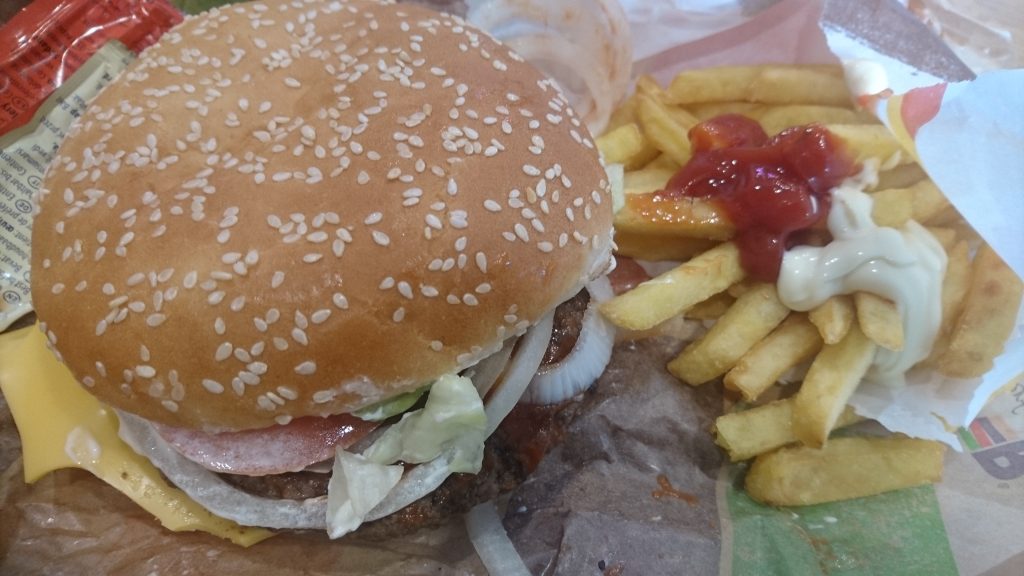 Food? We had high hopes for BK's much heralded return to Cheltenham, and the results are – perhaps inevitably – disappointing. This Whopper was a little squashed-looking and chucked-together, a pale imititation of the delicious and mystical one that beams at us from the state-of the art vid-screens. That Whopper taste is unmistakeble though, even if it is a little cold. Disappointingly skimpy on the salad front too, which is unusual for BK. They're also making the fatal mistake of cooking a bunch of fries, lining them up and letting them go cold before giving them to the customer. School-boy error. Come on Burger King, we've waited long enough. Get your house in order.
Price? About £14 for both of us. Plenty of vouchers around, and an app with unique offers is worth downloading.
Venue? An awkward layout and self-serve drinks machines make it a bit chaotic. Usual chav clientele.
Family/disabled friendly? Sure, of course you can bring kids here, it's what they want, right? Not much seating downstairs, but room for a buggy at a push and good access baby-change facilities are available. If you have functional legs, sit upstairs.
Service? Standard fast food 'order at the counter and take a ticket approach' As mentioned above you even have to make your own drink these days, forcing a tailback and the drinks machine and encouraging 'I'll get way with it' free top-ups. We could scarcely write this review without mentioning Cheltenham legend 'Burger King Billy'. After what was doubtless an unhappy defection to KFC, this local institution was first in line for his old job back at BK and his troll-like appearance and grumpy service are most surely an undeniable part of the Cheltenham experience. Order something unusual and watch his hands move over the till like a maestro's over a harpsichord – and if you can goad him with an-off menu request into one of his infamous bad-attitude comebacks you've ticked all the boxes! Truly a master of his art.
Can I get a beer? Nope
Pickle Test? Grudgingly. Pass.
Review? We all know what to expect from the world-famous Whopper and after an absence from Cheltenham that spawned an online campaign and some clever 'when will it be?' marketing, the fast food giant romps back into Cheltenham with a much more sensibly-sized venue and the usual price point just a bit above McDonald's. The standard Whopper doesn't come with cheese so make a point to ask! Low on salad here though, and thrown-together food indicate that standards haven't actually slipped, they just haven't been implemented, and we expect and demand BK pulls its socks up, pronto. Cold fries – that have been cooked fresh, then left to go cold – are unforgivable. The most infuriating thing here is the sauce debacle. We want LOTS of ketchup with our meal, and don't want to be watching our lukewarm meal get colder whilst we're trying to open countless sachets of environmentally-unsound foilized sauce servings with our teeth. Take a leaf out of McDonald's book and get some pumps installed, BK! This page calls on Heinz, Hellmans, all the manufacturers and in particular Burger King to JUST STOP MAKING OR USING THESE sachets and we call on our members to boycott them and insist on an environmentally friendly alternative.
Chiquitos – Bastante promedio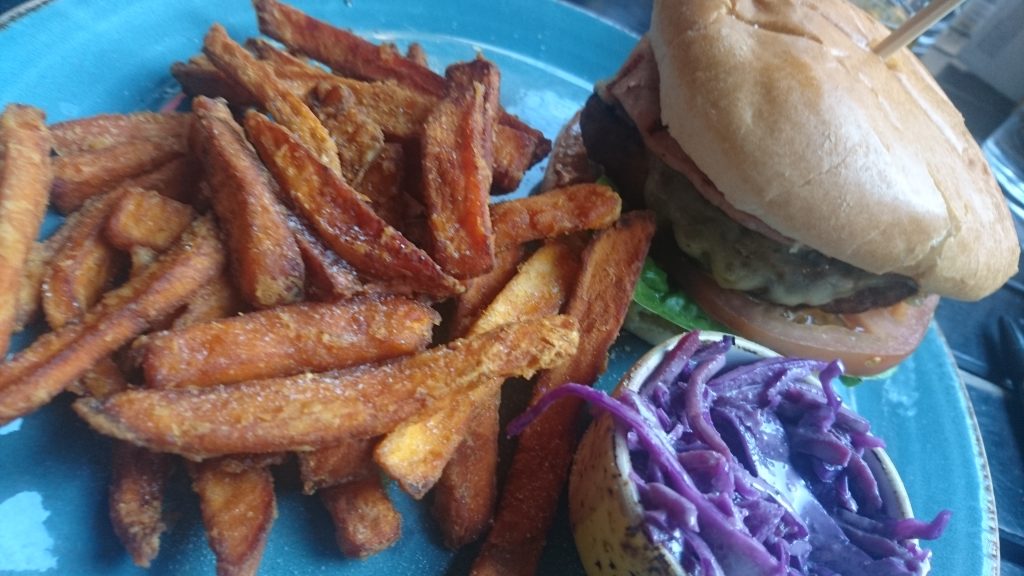 Food? A little small and disappointing burger from Chiquitos, but well presented and tasty enough. We're not above pointing out this isn't a speciality of theirs. But it is a burger. A large side of purple, vinegary slaw adds colour.
Price? £20ish for both of us. A good deal using the Meerkat 241 food offer.
Venue? Bang – in the Brewery, Cheltenham's cultural vibe-spot, which is basically a bunch of competetive chain fooderies and overpriced bars surrounding the cinema. Chiquitos has one of the nicest interiors though with plenty of space for a family night out. Very pleasant.
Family/disabled friendly? Yes, most certainly, and they do very well on this front.
Service? Slack, because we opted to sit outside where they can't be bothered doing table service. Ordering at the bar is very slow because there's always someone there mixing cocktails, with total confusion on both the menu and till regarding which products form part of the Meerkat promotion abound. Fatally – we got our food before our cutlery and condiments AND we had to chase them for more sauce – so the food had been sitting around a while before we got to eat it. They made a complete meal of it, basically, although as ever, it's possible we just had a bad experience.
Can I get a beer? Yes, a bit pricey though. 241 cocktails available, dropping them from exorbitant to affordable.
Pickle Test? Initial total panic. Then assurances it was doable were offered. When the food arrived with no pickle in sight we were told they didn't have any. Darn. Fail.
Review? Doubtless their other offerings along the more usual Tex-Mex fare are more in line with what you ought to be ordering here. Fragmented service, ketchup rationing, promotional confusion and gherkin refusal all put a damper on our experience. Chiquitos offers more than it can deliver, so make it easy for them by booking ahead, sitting inside and ordering something they can cook.
JD Wetherspoons – The Bank House – Playing the 'Spoons
IMAGE MISSING sorry!
Food? Much the same as the Moon-Under-the-Water, but smaller, and skimpier on the very average chips – and the bun isn't as nice. Very average really.
Price? Approx £14 for both of us. Standard Wetherspoons bargain prices, especially with things like doubling up or getting the 'beer and burger' deal.
Venue? Relatively new and clean standard for Wetherspoons fayre. Room offered outside if you want to eat in a bus stop.
Family/disabled friendly? Safe unless it's Race Week! You need a Masters degree in orienteering to reach the toilets so if grandad is incontinent try somewhere else.
Service? Adequate.
Can I get a beer? Yes, usual good selection of cheap beers in a Spoons.
Pickle Test? Yes! Pass.
Review? NEWSFLASH! – 'New Spoons' is not as good as 'Old Spoons'. Standard Wetherspoons bargain prices result in much more standard Wetherspoons food. Clientele is marginally less chavvy and generally older than Old Spoons, but no real outside space. Ok for a few beers, or a quick pit-stop, but if you're looking for anything other than a cheap deal in an ok place there's much better to be had elsewhere.
McDonalds – Live Crime Whilst You Wait
IMAGE MISSING sorry!
Food? You don't need us to tell you what a Big Mac and fries tastes like. It arrived as they always do, slightly squashed and a few chips short, a pale imitation of its advertising-hoarding bigger brother. We like the Big Tasty, McDonald's belated answer to the Whopper (whether they admit it or not), when it's available. At least we got our food, because the people in front of us had theirs stolen by a chav when they were too slow collecting it after their number was called. True story! He just made a desperate dive for it out of the blue, grabbed it, and ran out of the shop! Arguments ensued when the burly Latvian foursome whose dinner he'd made off with found out. I left them a card and offered to give a statement. Nobody ever called.
Price? Around £11 for both of us, depending on whether you 'go large' or whatever.
Venue? It's a McDonalds. Quite a clean tidy one we suppose. Latest incarnation is black and white decals subliminally designed to make you eat more. Sauces are served in environmentally sound pumps, so well done there. Usual clientele of exasperated parents, chavs, and down-an-outs.
Family/disabled friendly? Of course. We specialise in welcoming the next generation of gluttons.
Service? Non-existent, you know the score. They do their best, bless them.
Can I get a beer? Nope
Pickle Test? Sporadic – We were point blank refused and practically branded as thieves by a very angry and unpleasant young teller at the drive-through at Gallagher retail park, who accused us of trying to steal away their profit-margin – even though we'd offered to pay for our pickles – as we always do – on making the request in the first instance. We'd asked at the mike and at the payment window and there she was fuming in the food window, ready to issue her personal brand of upstart law and order. Have a go at us for asking for a gherkin why don't you? F*ck you! Very fortunately for them the Gallagher Retail Park McD's is too far away to make it onto our list. This is town McDonalds we're talking about, and they usually come good. Pass.
Review? What can we say? McDonalds had to make the list, because consciously or not we judge everything to this standard. The golden arches are a pop culture icon, and seemingly oblivious to their younger, more upstart competition the mighty machine trundles inevitably on, offering their unique brand of cheap, comforting, slight disappointment to anyone with two coins to rub together. A last resort, but one you can always rely on. And that's a great feeling.
Five Guys – Don't Believe the Hype
IMAGE MISSING sorry!
Food? The burger itself was pretty good to be honest, but the presentation is dreadful and arrives unceremoniously and in a criminaly wasteful amount of packaging. The fries cost extra. A dizzying selection of sickening-sounding milkshakes made us feel a bit ill.
Price? Exhorbitant for a burger joint. £30+ for something handed over, upside down, in a paper bag by a grinning weirdo in a baseball cap. Who are you kidding?
Venue? There's a garish, loud, American-style diner look to the place. Free peanuts are on offer (wtf?). The lighting is blinding, probably designed to either get you in and out as quickly as possible, or to force you into a gulping epileptic convulsion. The walls are decorated with tacky credentials as to the wholesomeness of the food and the success of the business. Not to our tastes at all.
Family/disabled friendly? Sure thing, but there are definitely cheaper places to feed your kids and where they won't leave massively overstimulated.
Service? Nonexistant. Slow button-pressing requires maximum concentration.
Can I get a beer? No
Pickle Test? We were so dumbstruck by their prices we forgot to ask.
Review? If you like the American vibe, go to TGI's for a table-served experience and better food. We can't see the attraction in Five Guys at all. Eating a £30 meal out of a nose-bag just doesn't cut the mustard with us, if Five Guys was competitively priced we'd understand why anyone other than the wallet-laden hipsters go there – but we just can't. They have an inexplicable attraction to the use of peanut oil in their cooking so avoid if you have allergies. Something about the food – possibly the peanut oil – made one of us break into a sprint part-way home to get to the throne, and only just made it at that! Five Guys' has a hip reputation and it obviously benefits from its proximity to the Brewery, but it opened in Cheltenham before the return of Burger King and we predict problems for them when the novelty wears off, and their shallow, fickle clientele move on. By all means try while it's still here – you'll see what we mean.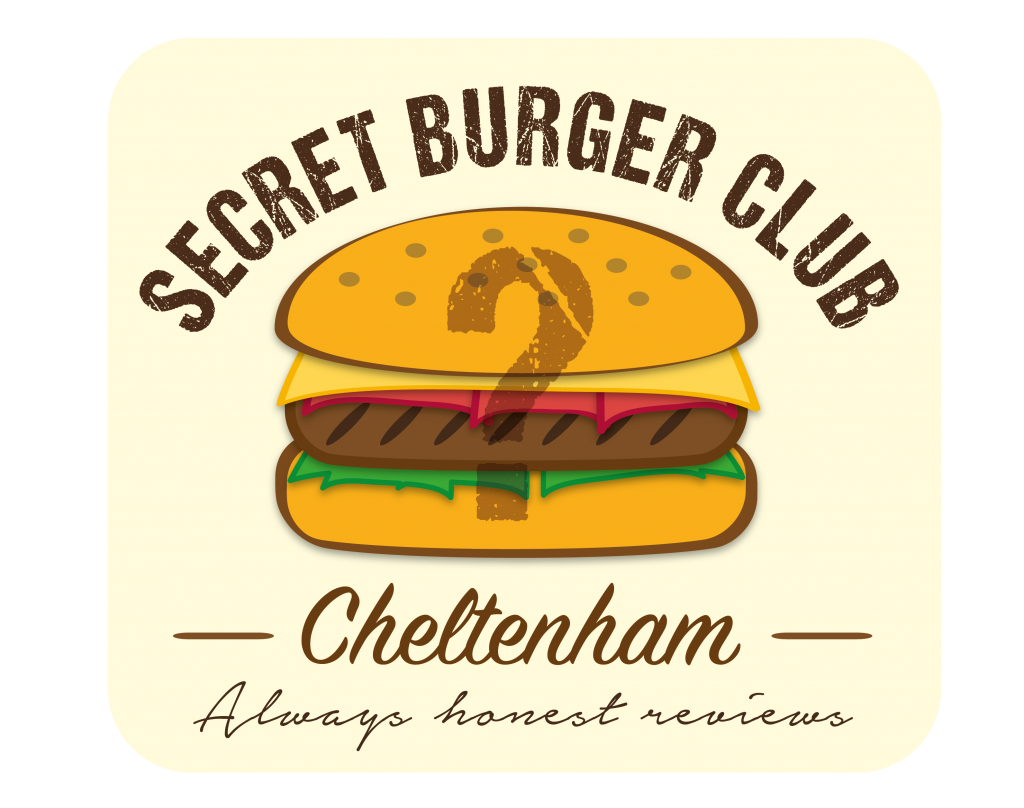 Thanks for reading our reviews! More to come!
To be applicable an eatery must be based within walking distance of Cheltenham Town Centre. They must offer burgers on the menu and have some kind of seating inside (kebab-style shops are not applicable, sorry). The photos shown are our own in all cases – there are no publicity shots here.
We're looking at the burger. Is it presented nicely? Decently seasoned? Is it a good size? Is it hot and properly prepared? Does it have texture? Is it in a tasty, seeded bun? Is the accompanying salad fresh and ample? Above all, we judge it on flavour.
The side – How are the fries? Second only to burger flavour, this is important! Is it a skimpy portion? Are they golden and crisp on the outside and soft and fluffy on the inside? Do they cost extra? If so, why?
Price – of course! We're looking for value for money, right? Thus we factor in the total cost of our meal into our rankings to offer what we think is a fair and balanced review.
Venue – We also look at the venue itself – is it somewhere you want to sit? Is the atmosphere conducive to a good feed? How is it as a dining experience?
Service – Are the staff friendly? How long does the food take?
And to a lesser degree the points below…
Responsibly sourced, fresh, local ingredients.
Friendly, efficient staff
Table service
Somewhere to sit outside, weather permitting.
Family or disabled friendly? – does it have appropriate ramps for pushchair/wheelchair? Is it somewhere you'd take your kids?
Consistency. Is it always nice? Or was the chef having a good day? We've visited most of these places more than once and in all cases this page updates with a review on our most recent visit.
Can I get a beer? I want a beer.
Unlimited sauce – we hate having to get a waiter's attention and ask for more sauce half way through because they didn't bring enough. It's gotta be the market-leading ketchup, sorry. Weak, vinegary imitations ruin meals for us, and we're burger purists. All sauces provided should be the correct branded ones and in unlimited supply. Also see important point re-foilized sachets under 'Things that lose points', below.
Cold food
Brioche buns. Commonly seen, but we're not American, sorry. This sweet, light bread too often disintegrates, making a real mess and forcing you to finish a burger with a knife and fork. Boo Hiss. A traditional, appropriately sized, lightly toasted bread bun with sesame seed topping is just what we're looking for.
Rude, dishevelled or uninterested staff.
Slow, lazy service and long waiting times. Come on, it's a burger.
Odd or inappropriate salad ingredients.
The requirement to pay for a side of fries separately (we feel they should be included) UNLESS a good or special selection is offered.
Pet Hate! Getting the food before our knives, forks and condiments have arrived. COME ON! Don't keep us waiting man, it's getting cold!! This is basic error we see far too often. Certain places like Wetherspoons and Son of Steak bypass this by encouraging you to collect your own cutlery and sauces on your way back to your table or issue them at the till. Smart business or lazybones?
Massive Pet Hate! Sachets of sauce. We like condiments here at Secret Burger Club, but knowing the container our spoonful of ketchup came in will choke a turtle years after we're dead totally ruins the experience for us. We're talking about these small foilized plastic sachets you get given. We HATE them. Bring me my ketchup in a glass or plastic bottle, or put it on a pump please, and stop this wasteful practice. We'll never go vegan here but we are in a climate emergency and despise waste. This page calls on Heinz, Hellmans and all the manufacturers and in particular Burger King to JUST STOP MAKING OR USING THESE THINGS and we call on our members to boycott them and insist on an environmentally friendly alternative.
There are two of us, a girl and a guy, a former burger chef and a greedy burger aficionado. Other than that we remain pretty anonymous to protect the sanctity of our reviews and because we want a typical experience. We'll order a cheese and bacon burger and fries, and a drink, each. One of us will have a coke or possibly a cider and the other will have a coke too, unless a beer is available, in which case a beer will always be bought. If the offer to 'double up' or switch to sweet potato or otherwise fancy fries exists, one of us will sometimes do it and we'll say so in the review if these options are taken, and you can see in the pictures. We tend to avoid peak times to give the venues a fair chance. We always pay for our food. At least we've never come across a place yet where we've had to refuse to.
We'll throw a spanner in the works to test the service and flexibility of the venue by making a simple off-menu request in the form of a small side order of pickled gherkins. Since these are often found in a burger anyway, this should be easy-peasy. We'll pay whatever you want. How do the staff react? Professional agreeablity or blind panic? Can they do it? Will they go that extra mile?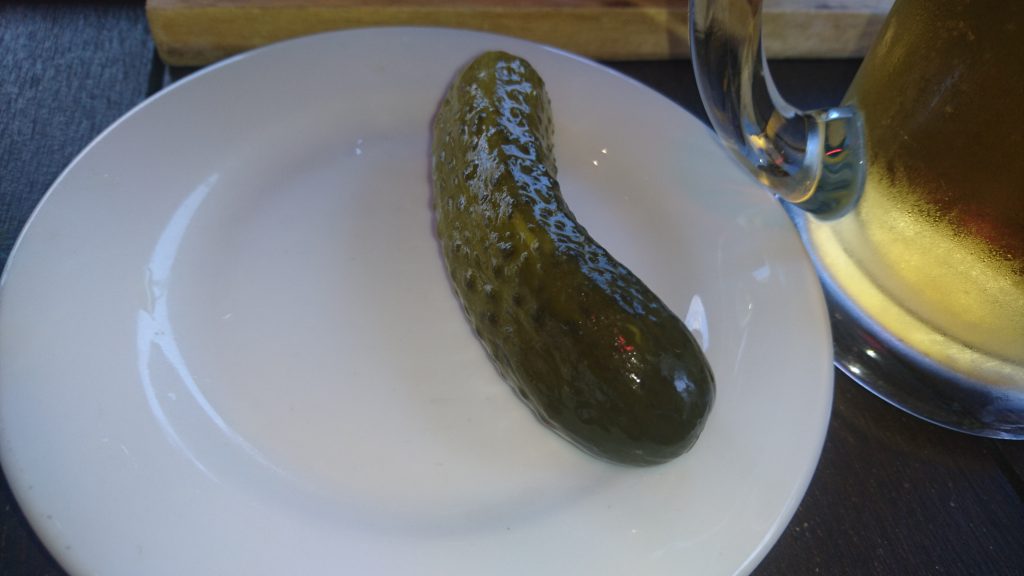 Why are you doing this?
Because it's fun. We love Burgers, and we love Cheltenham. Cheltenham deserves a good burger, and with lots of competition we hope to help reward those businesses to go the extra mile and guide new customers to them. Support our high streets and local businesses! Get a bargain and have a good time as well.
Disclaimers and Other Stuff
This page is completely impartial and based on direct experience, without exception. We are not paid by anyone for this page and do not represent any of the companies or businesses listed. We're aware there are burger places in Cheltenham that we haven't tried yet, and we will be going to as many we can before we die of whatever chronic condition we contract.
Sometimes there may be a few weeks between updates, we might be dieting, ok?
We are not trying to create negative publicity for anyone or call anyone out. We offer constructive criticism and revisit places even after a negative review, which we'll update.
You may disagree with us on a review item. This is fine. Visit the place and make up your own mind. This is a Guide only.
Clearly this isn't a space for vegans or anyone with a problem with bacon. We make no apologies for this. We are environmentally conscious though, and feel it's important animal welfare is paramount in the supply chain, and all forms of waste and wasteful practise be called out and challenged.
Burgers should be eaten as part of a balanced diet. Or just eat burgers every day – we don't care! But we can't be responsible for your greed. Use the information herein wisely.
Do own or know a burger place in Cheltenham you'd like to see make our list? There's loads to choose from and we intend to visit as many as we can. Be patient. Is there somewhere you think we should urgently try? Let us know at info@riverglade.guru!