MASK Boulder Hill Gas Station Ultimate Upgrade Project
CURRENTLY SOLD OUT – I am making a few small artwork modifications/improvements and will be making more stickers for mid – November 2019. Many thanks
"I have to tell you that you're just brilliant! I just finished placing all of the Boulder Hill sticker upgrades and the set looks AMAZING!!! Thank you so much for creating these stickers. My set from the 1980s…was nothing compared to how great you've made this playset look! Have an incredible day! Just wanted you to know!"
Dan Joseph – very much likes my sticker set, via Ebay
Full instructions below!
After thirty long years the oft-neglected MASK headquarters Boulder Hill Gas Station gets a massive 4 and a third x A4 sheet professionally drawn and printed glossy sticker pack to completely bring it to life and do it justice, the way it always should've looked!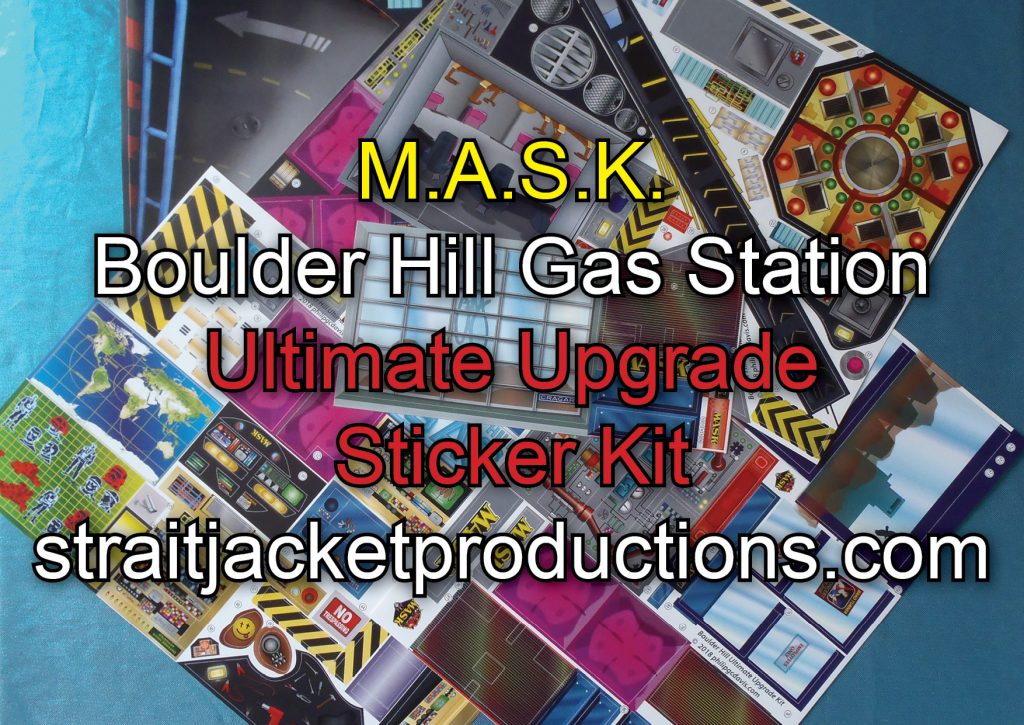 This is a full replacement and upgrade set, I've redrawn every original sticker and added loads more in pin-sharp quality and beautiful bright colours, adding enough in-jokes and fan service to make even Vanessa blush. Inside and out, and in either mode, your Boulder Hill is completely transformed, whist remaining true to the original exterior 80's design. You're going to love it!
What you get –
100+ Custom drawn, professionally printed and pre-cut gloss stickers for your Boulder Hill to make it POP! Full coherent instructions on this page! (scroll down)
Free Volcano upgrade complete Kit
Free Gator tail light detail sticker
So do you want an Energy Room?   The tube shuttle to Trakker mansion? Read on to find how you can have it all!
Before you start:
You will need:
A clean, dry, Boulder Hill playset.
A small, fine file or sandpaper- there are a couple of spots of plastic burr on the toy you'll want to smooth off before placing a couple of the stickers.
Scalpel, craft knife or decent scissors – BE CAREFUL FREEING UP THE STICKERS FROM THE BACKING SHEETS! ESPECIALLY THE LARGE ONES!
A sponge or squeedgee to smooth off the larger stickers.
Tweezers. These are a must. This is a precision set!
To read this entire page, including the notes between the photos.
Ok, you'll need to completely dismantle your Boulder Hill for this. I suggest cleaning it too. The only bit you need to be concerned about getting wet is the spring in the mountain gun mechanism. My existing stickers have completely had it, all sun-damaged and bubbled etc and I'm pleased to say they peeled off really easily. If you get gum residue try a little lighter fluid to clean it off. My grey 'swing bit' armour and the white pump bases were really yellowed too, so I've applied some hydrogen peroxide hair cream to them and left them in the sun for a few days and I'm pleased to see they've come out way lighter, although a little streaked. Still an improvement after 30 years of grime! You do NOT need to split the white pumps in half for this.
Are you ready?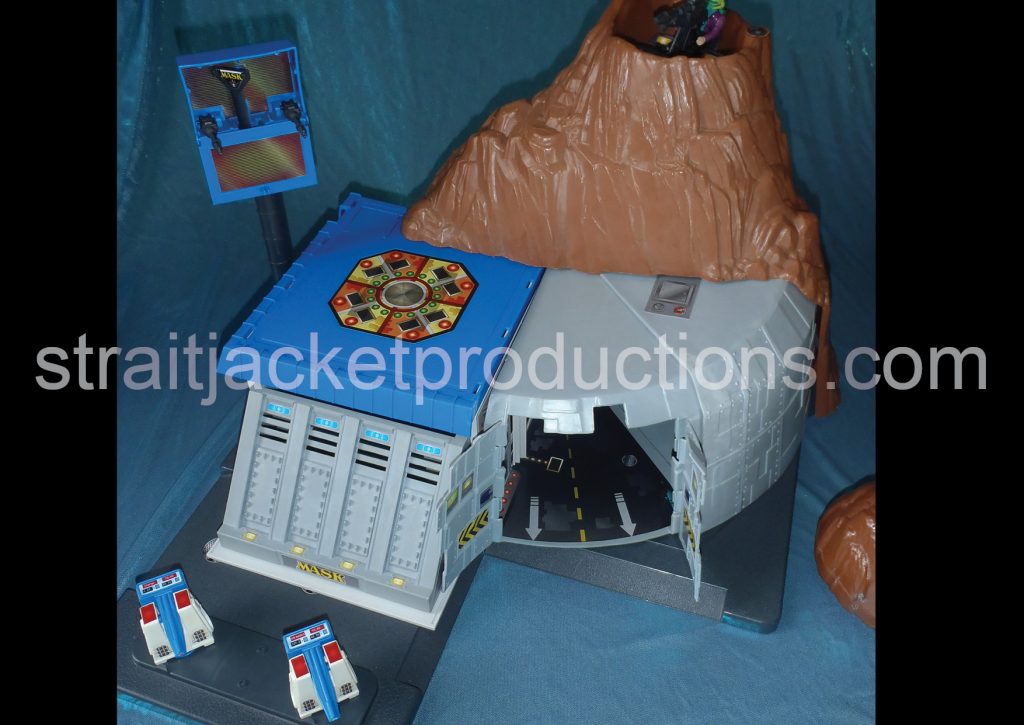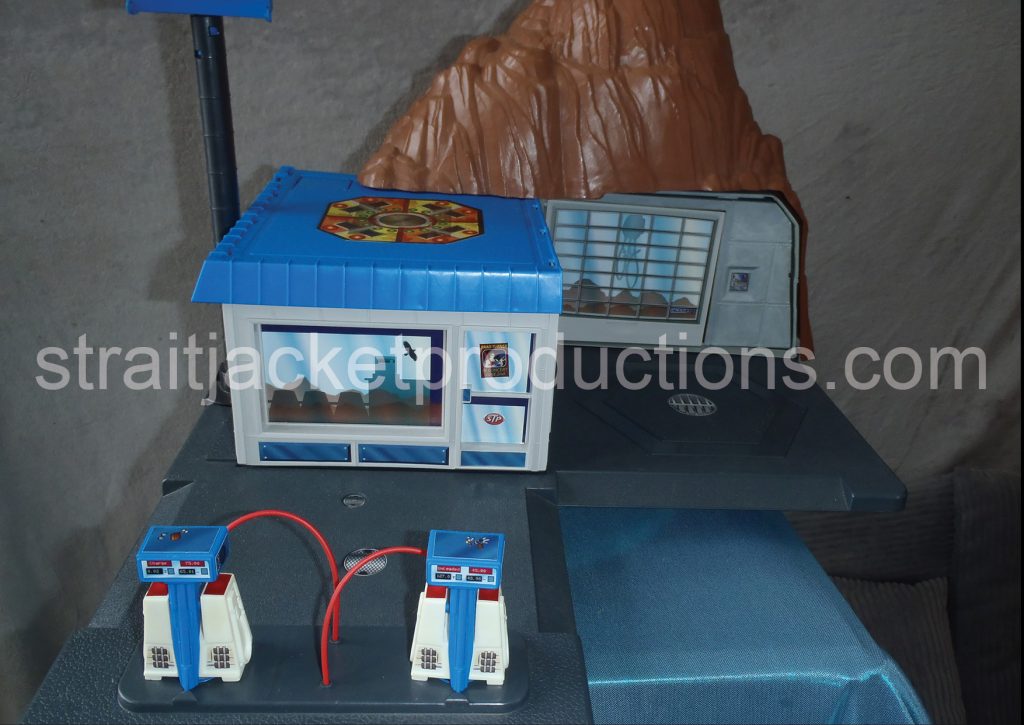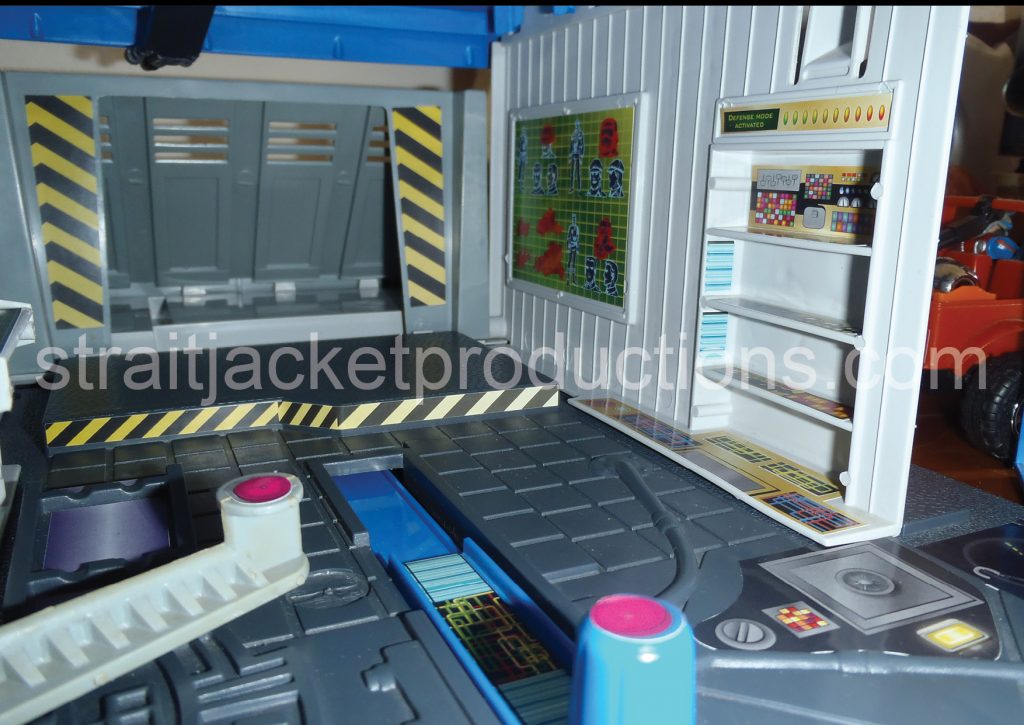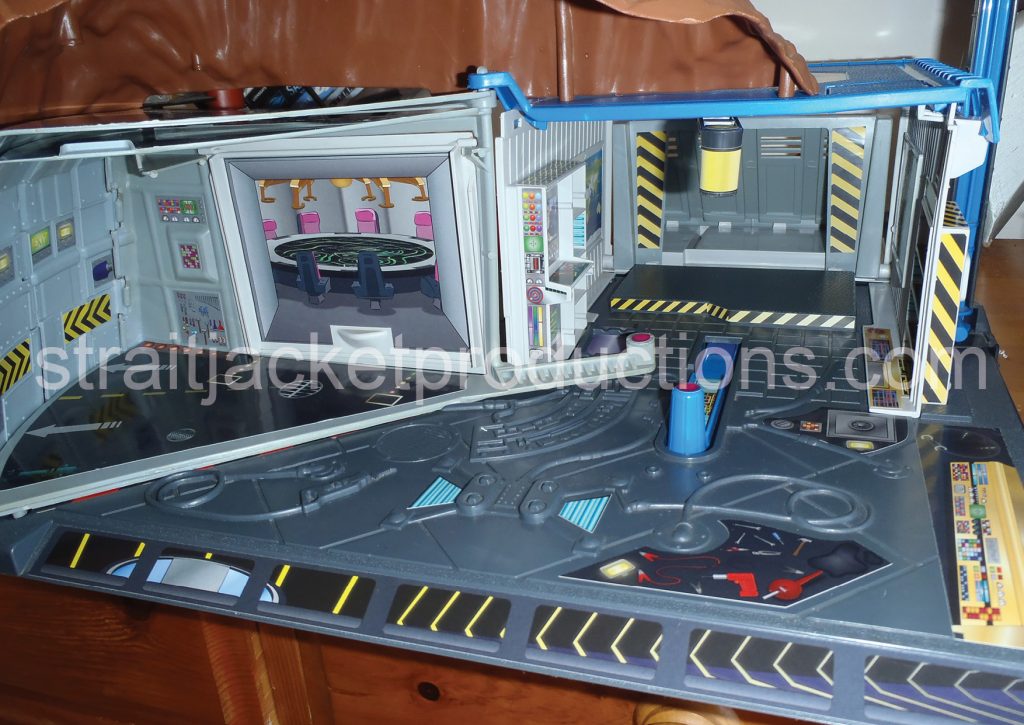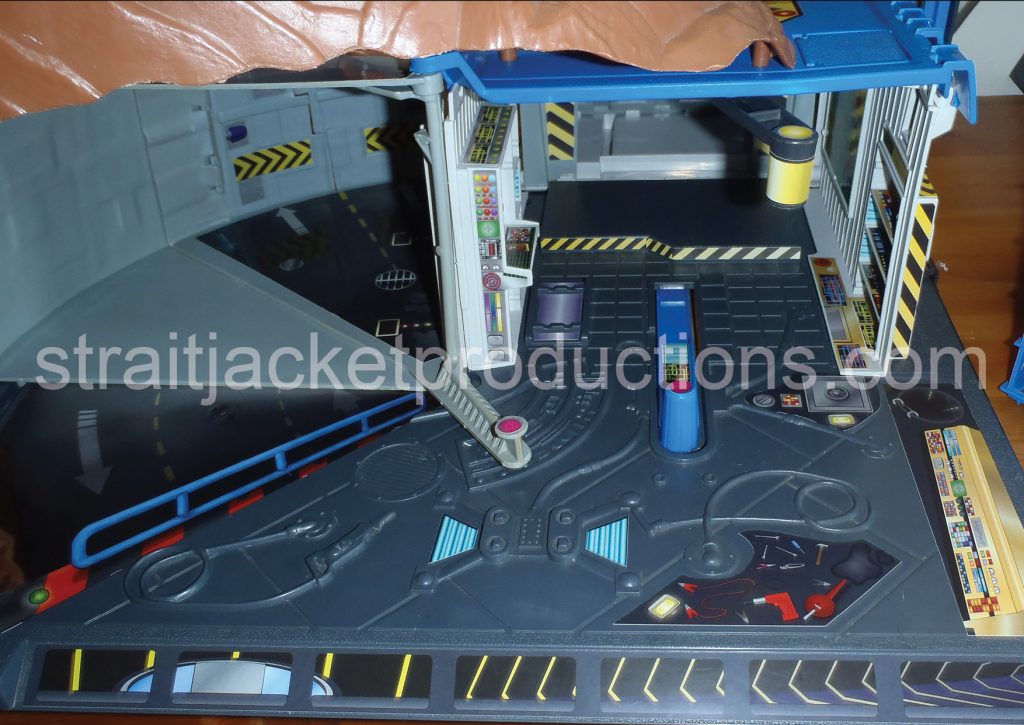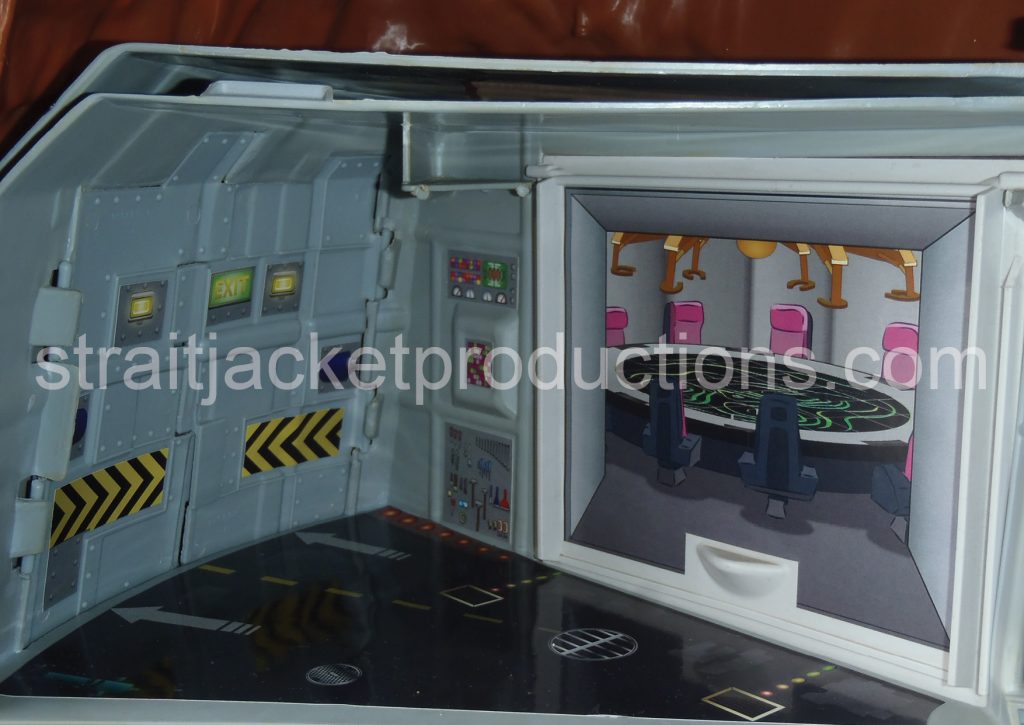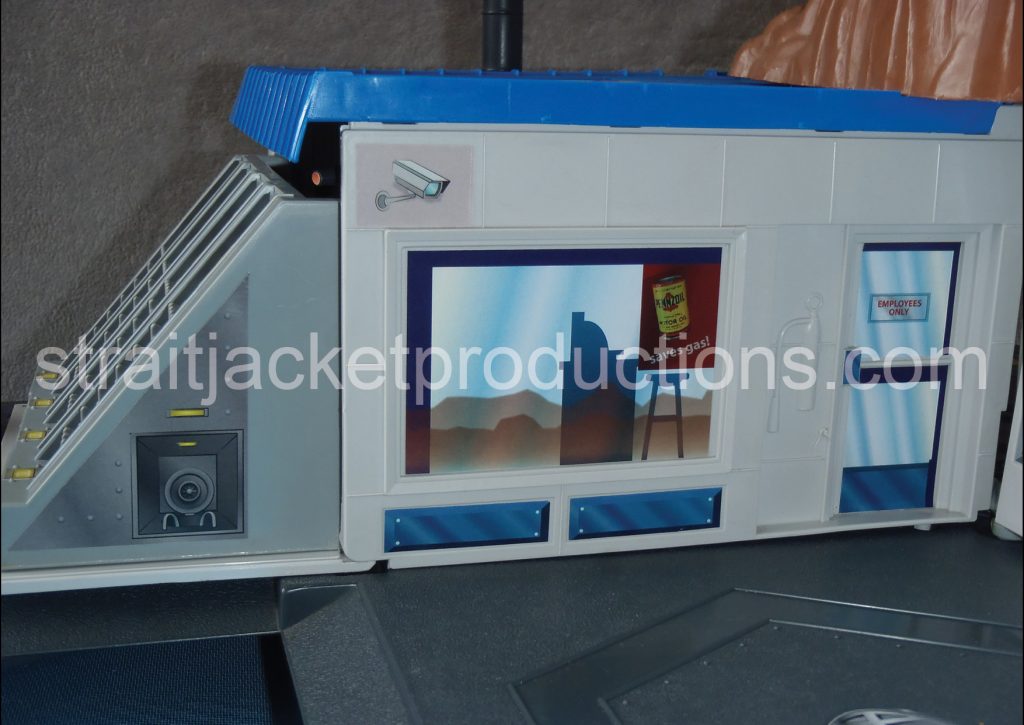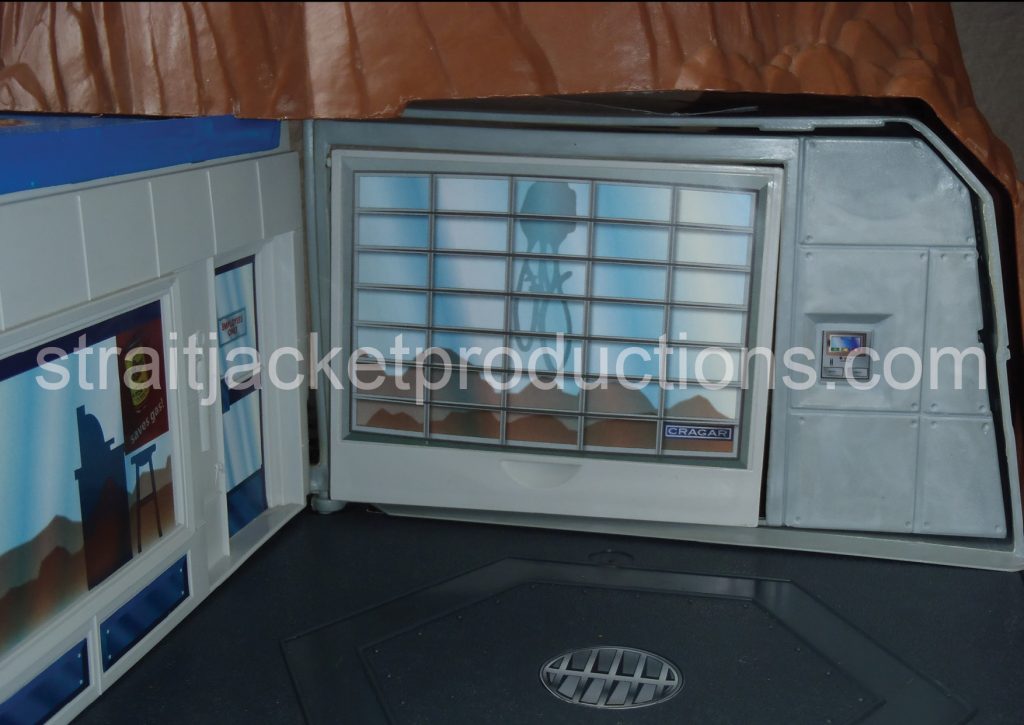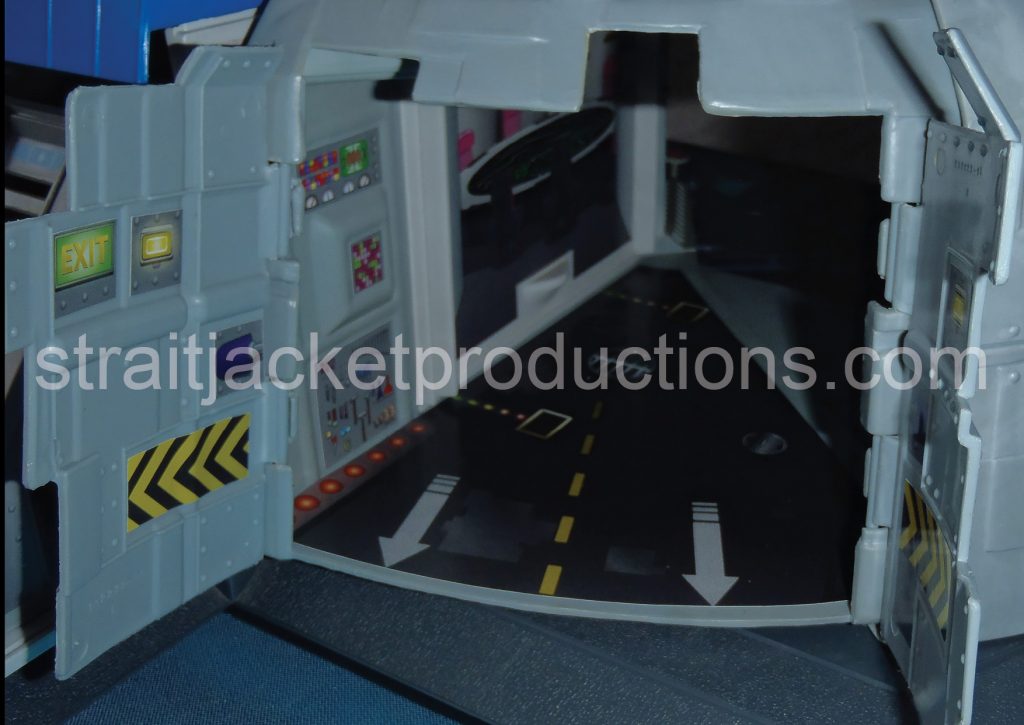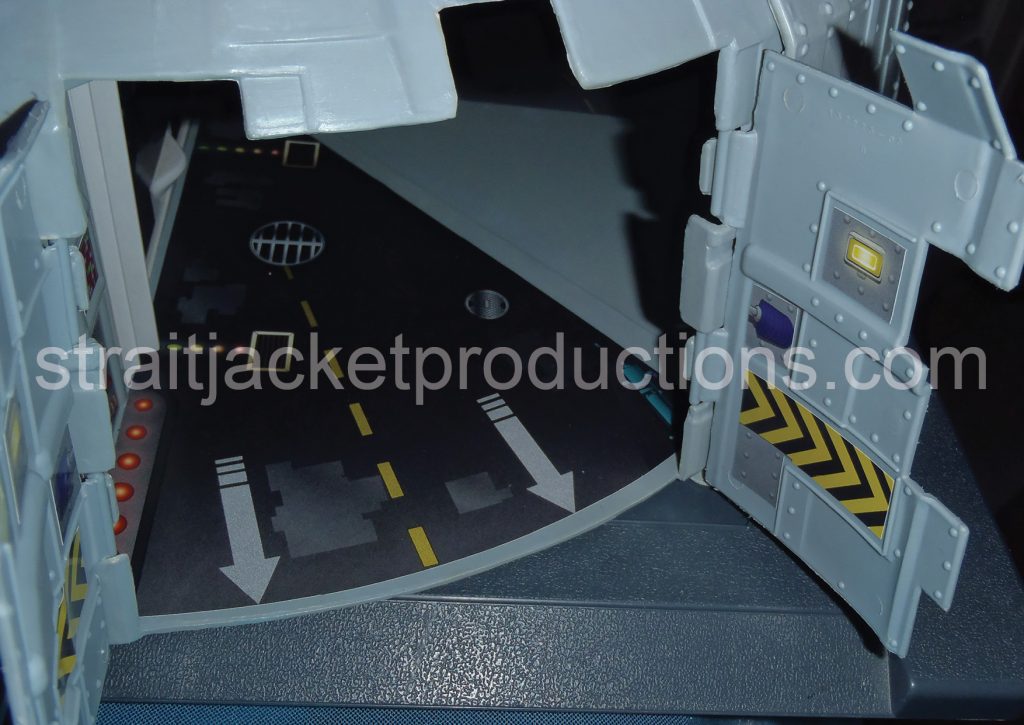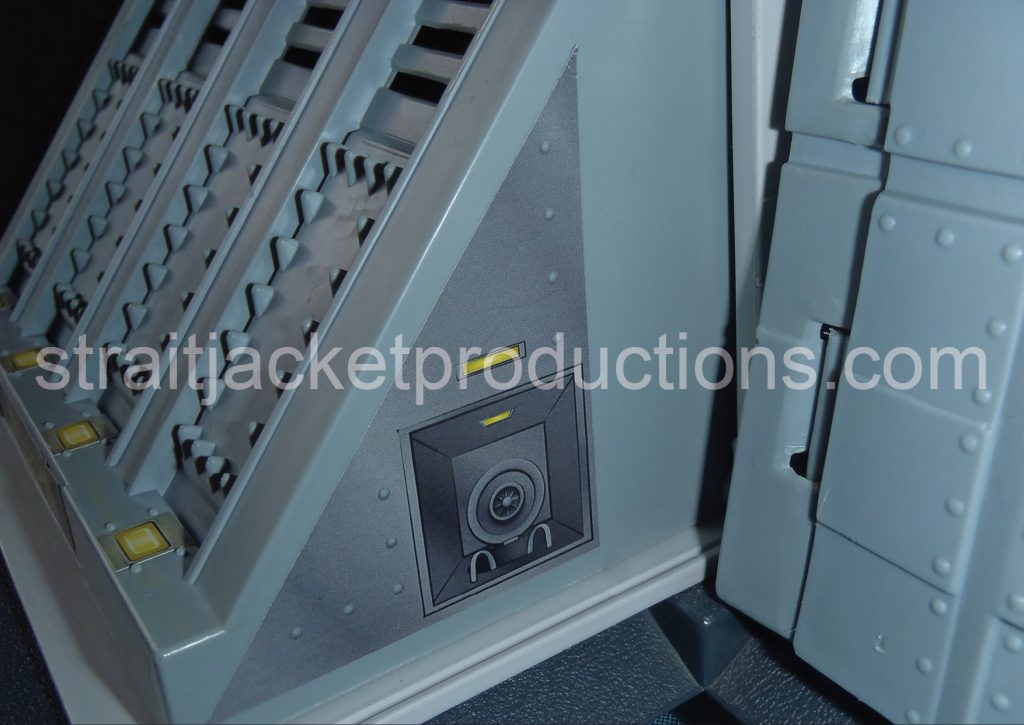 Full instructions:
To make this as user friendly as possible I've numbered the stickers into groups. Apply the stickers as below! Some obvious stickers, like the garage door, aren't numbered, and some similar stickers are numbered into groups. In all cases the sticker is NEAR the number on the sheet. Some stickers may need trimming just a bit, ie, (83), below, the MASK logo for the sign, which may have a bit of white at the top. I left mine on.
Here goes!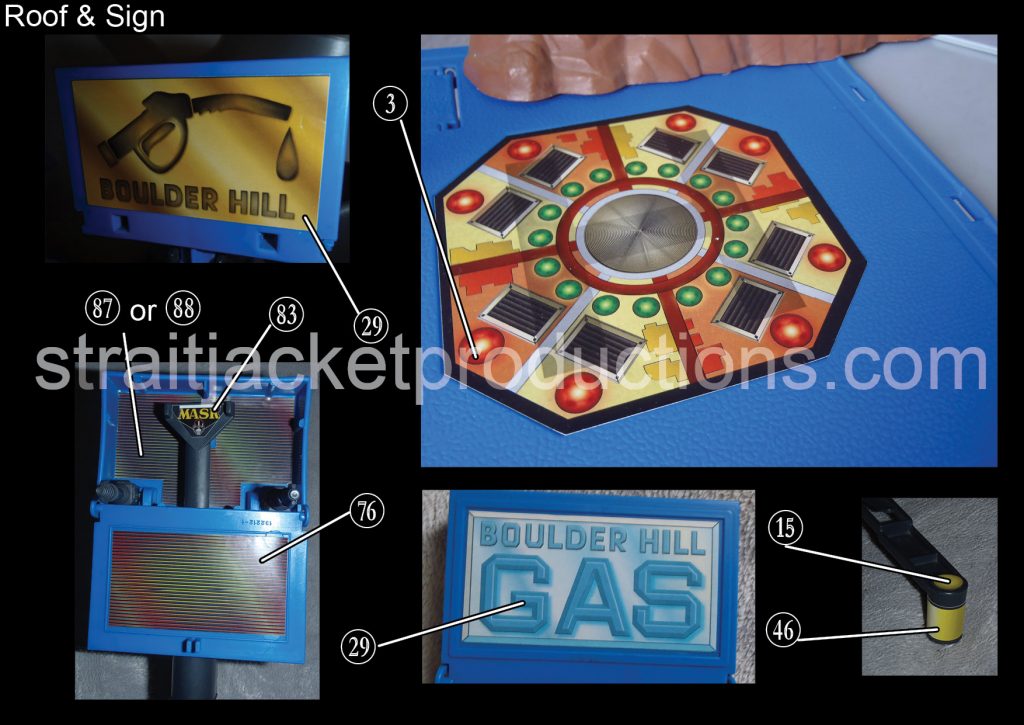 Ensure you get the big hidden 'H' of the helipad the right way round!
And now finally a chance to see the tower sign (sort of) as it appeared in the cartoon! Even if it is on the back. You'll know it's there!
Below – small burr in the centre of where sticker (61) goes, sand it down a bit first.
NB – right hand sticker 32, you'll need to cut the extra length off the cut-corner one. This is a clear error on my part, I forgot to flip the artwork before printing and cutting. Whilst you can see what I was trying to do, it doesn't make a huge difference, hopefully!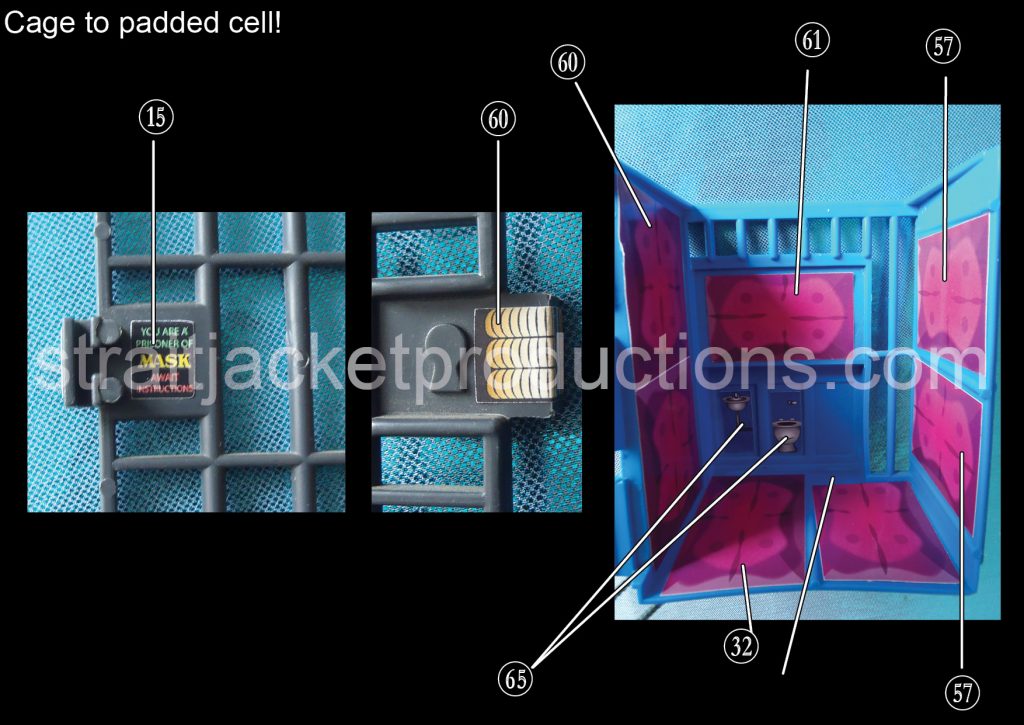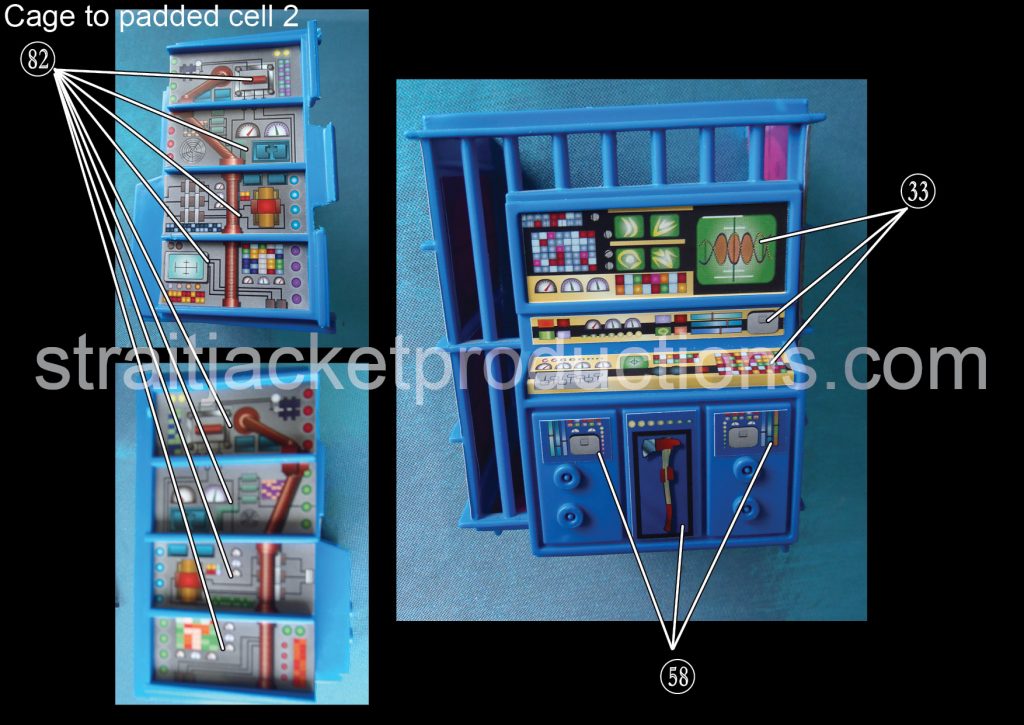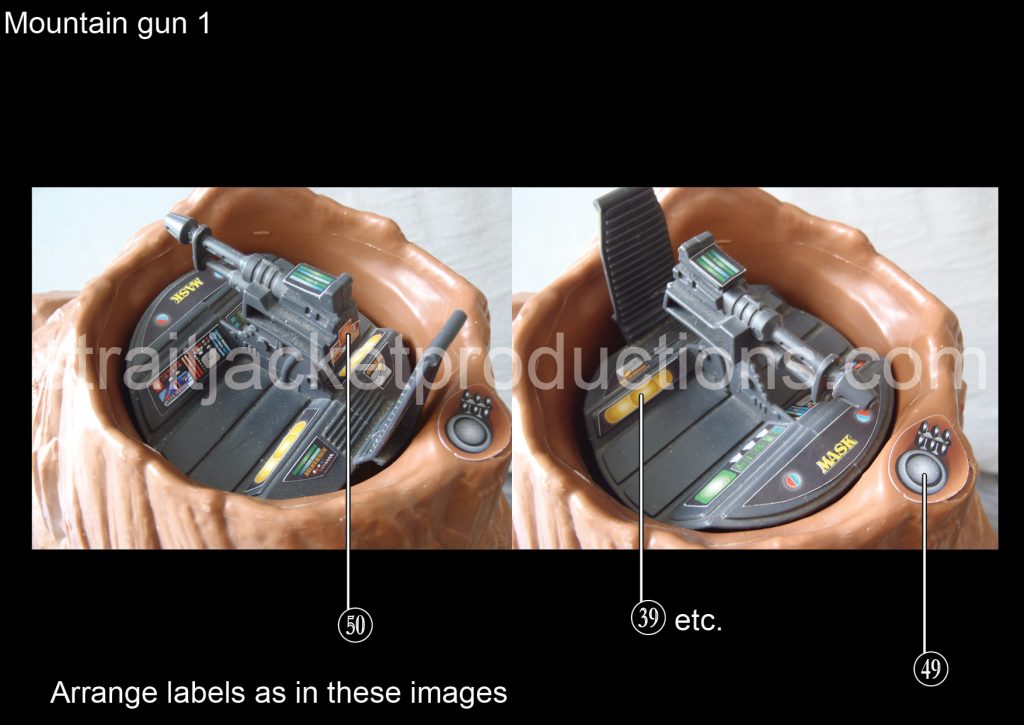 Note the Boulder Release and retrieval controls! File down the burr on the plastic before placing sticker (49), the Boulder launch and retrieval mechanism!
Ebay link here
Hey look! It's Mrs Simpson's annoying little dog, Cleopatra! (from the episode 'Fog on Boulder Hill'!)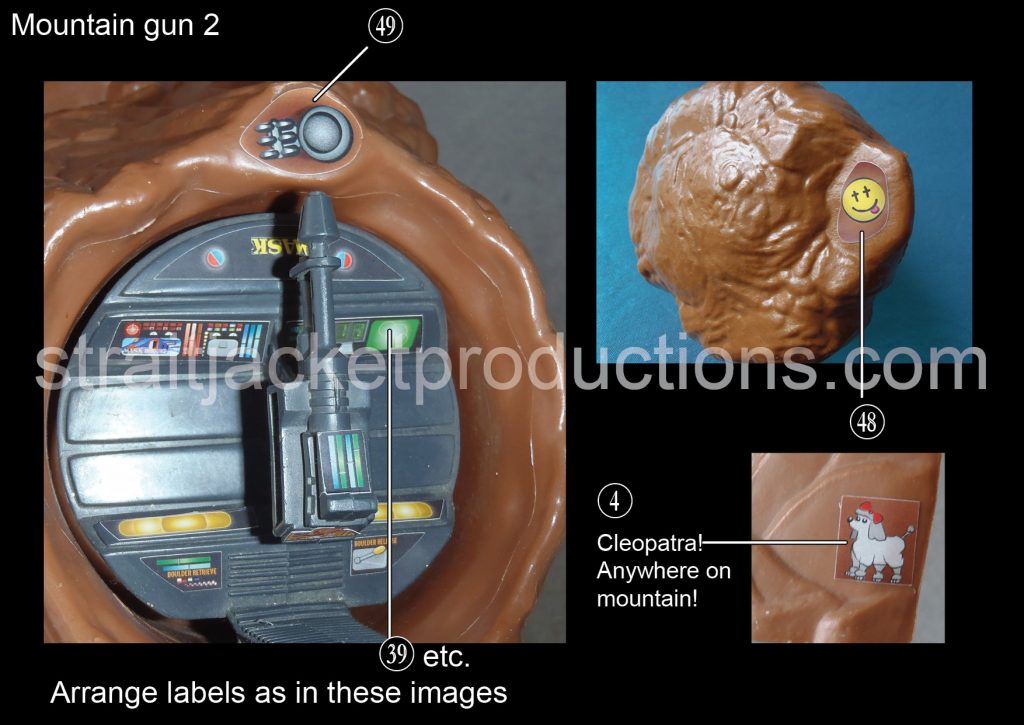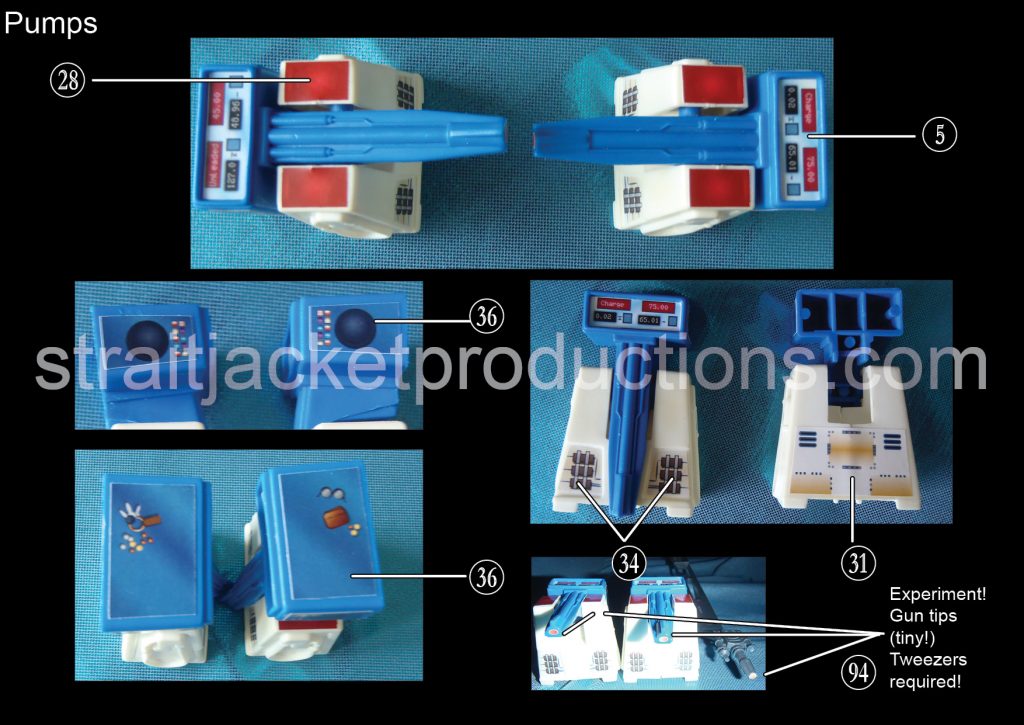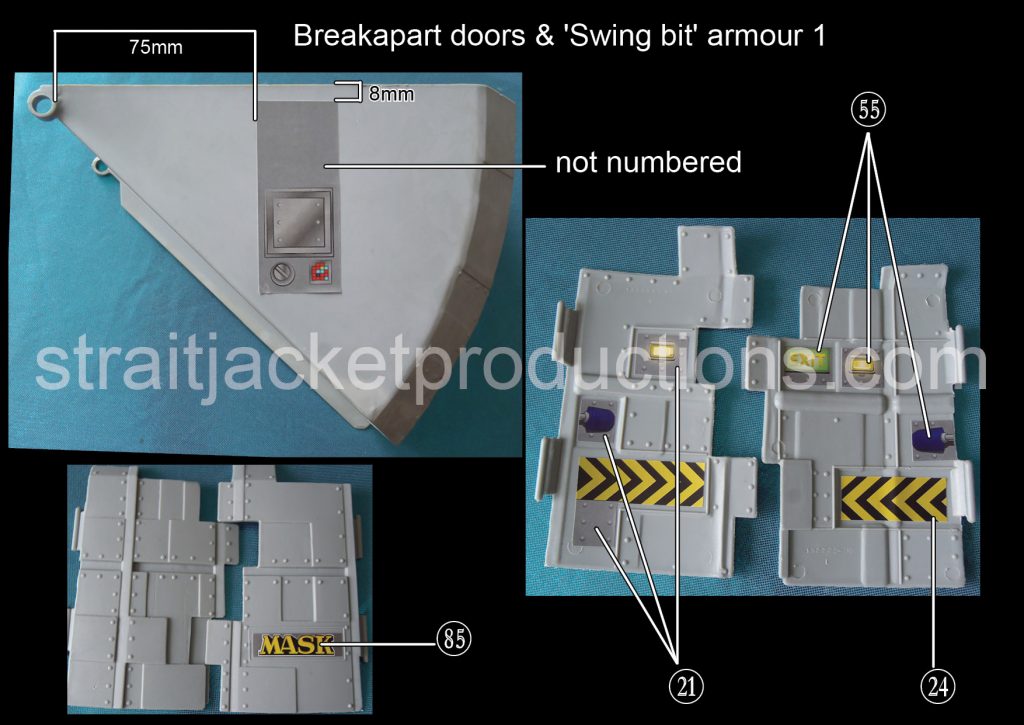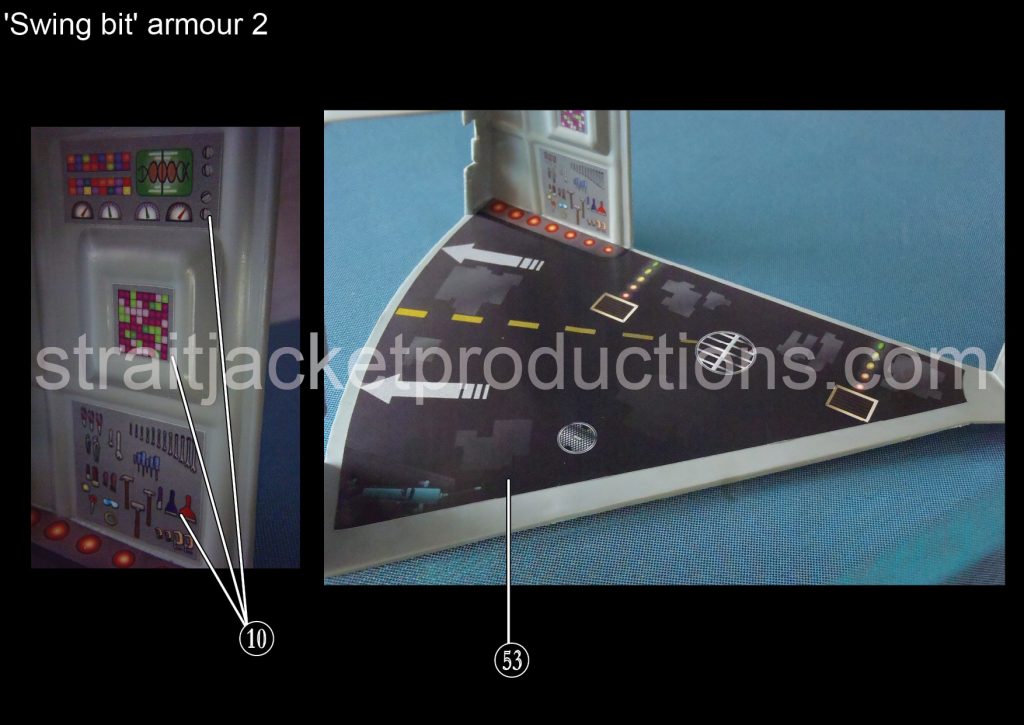 Not photographed – place sticker 17 on the swing bit armour, on top of the circular handle.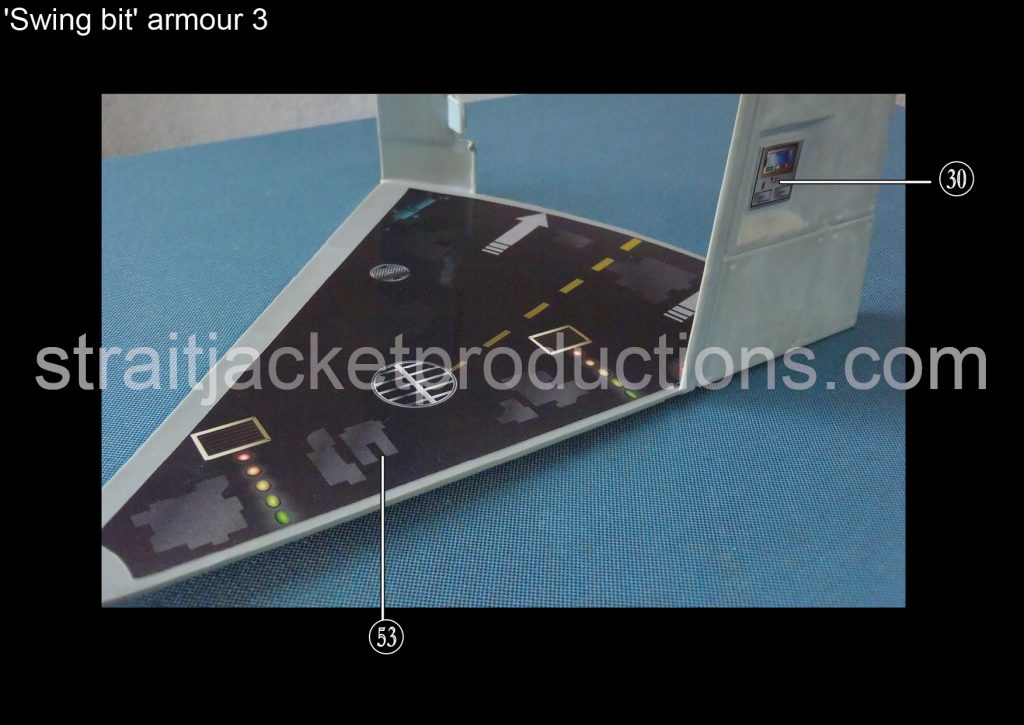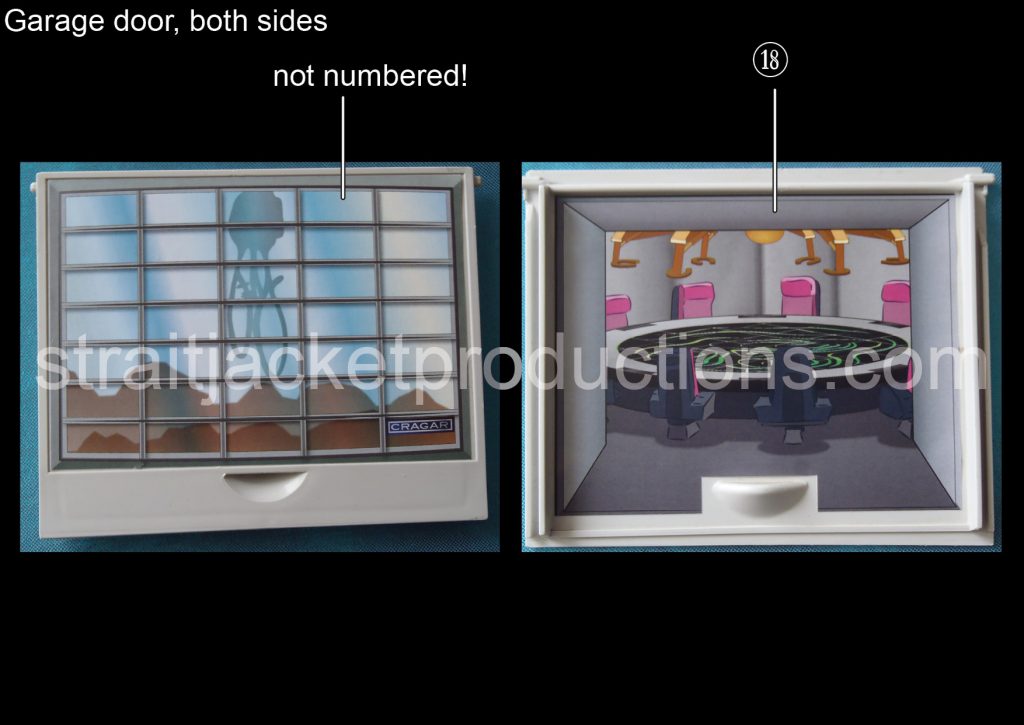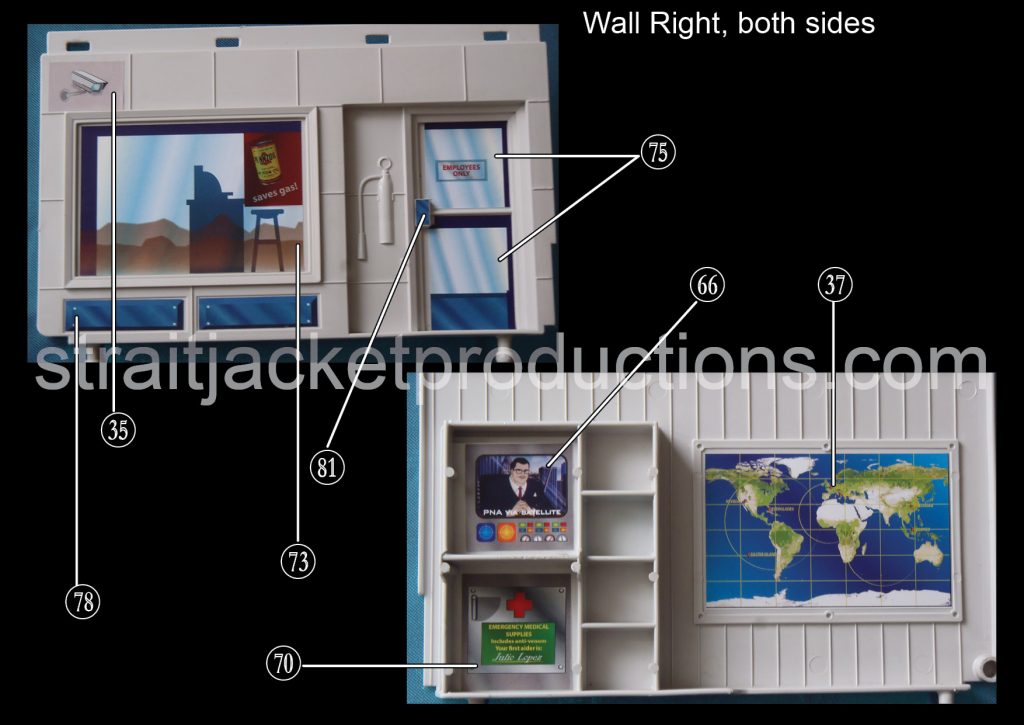 The marks on the map represent places the MASK team visited in the 7 novels (with the hologram on the covers). With the exception of 'The Plunder of Glow Worm Grotto!' Apologies to anyone in New Zealand!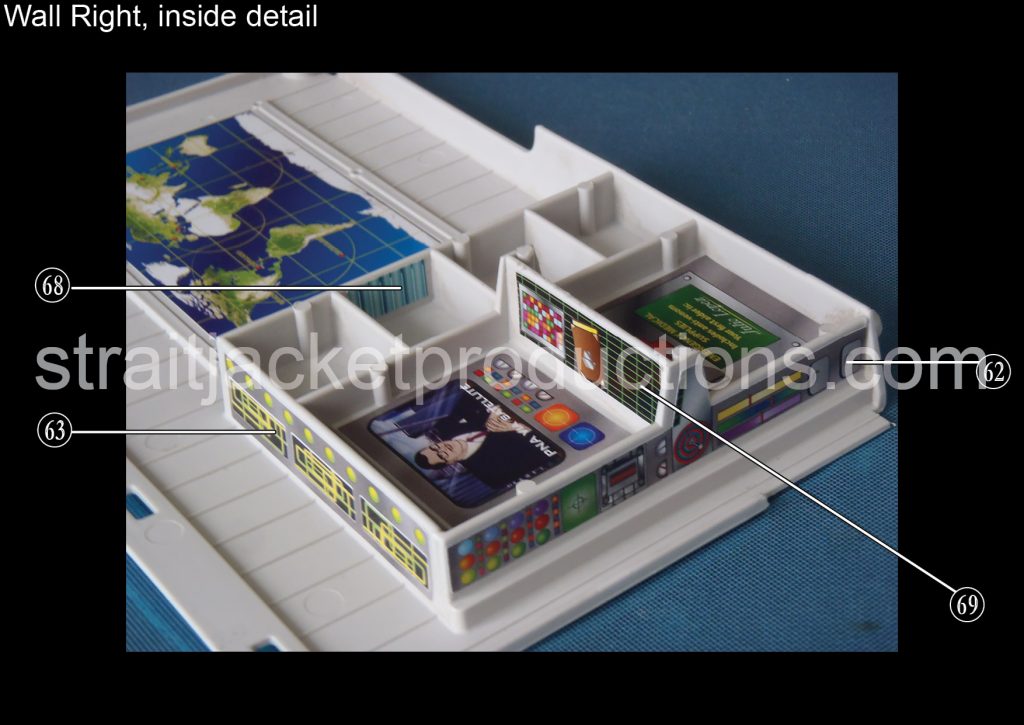 Note the 'Book of Power!' on 69!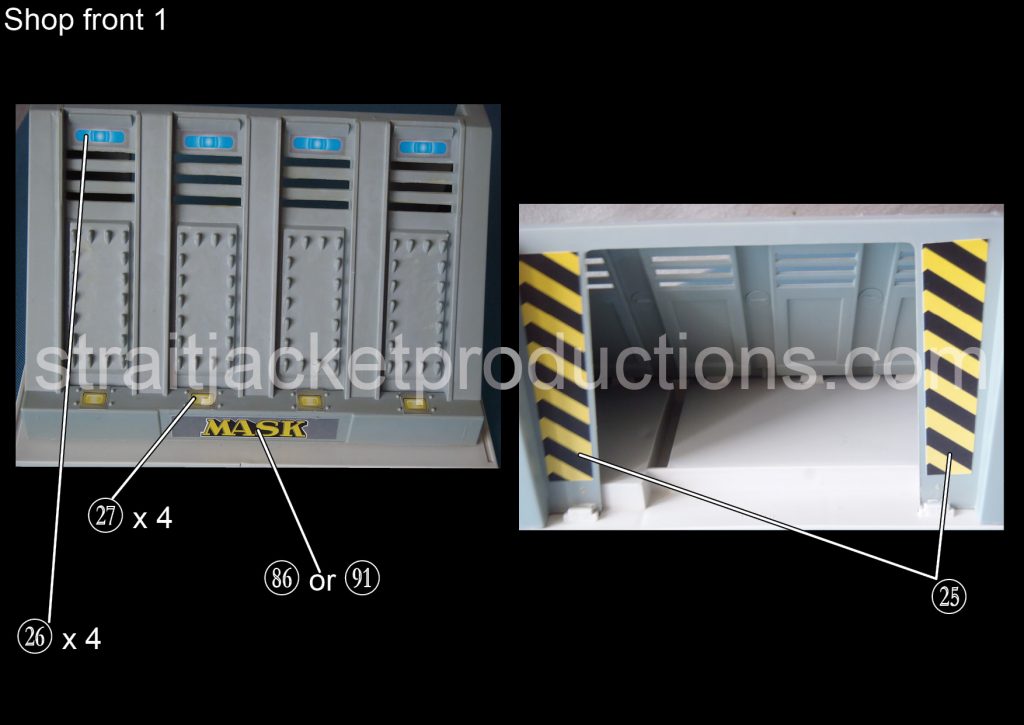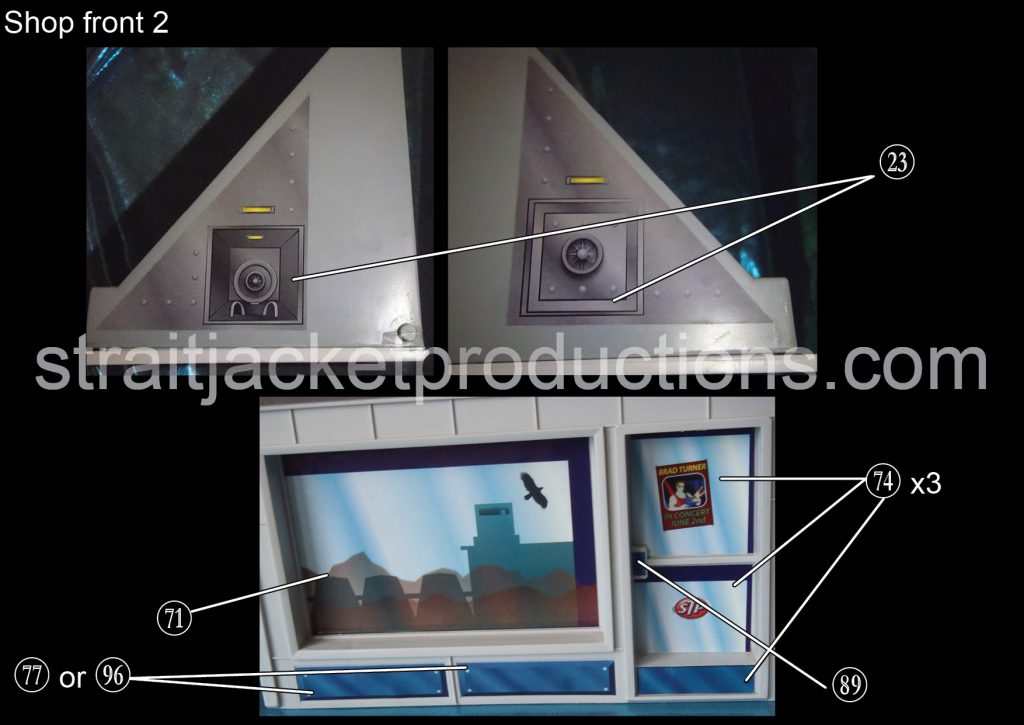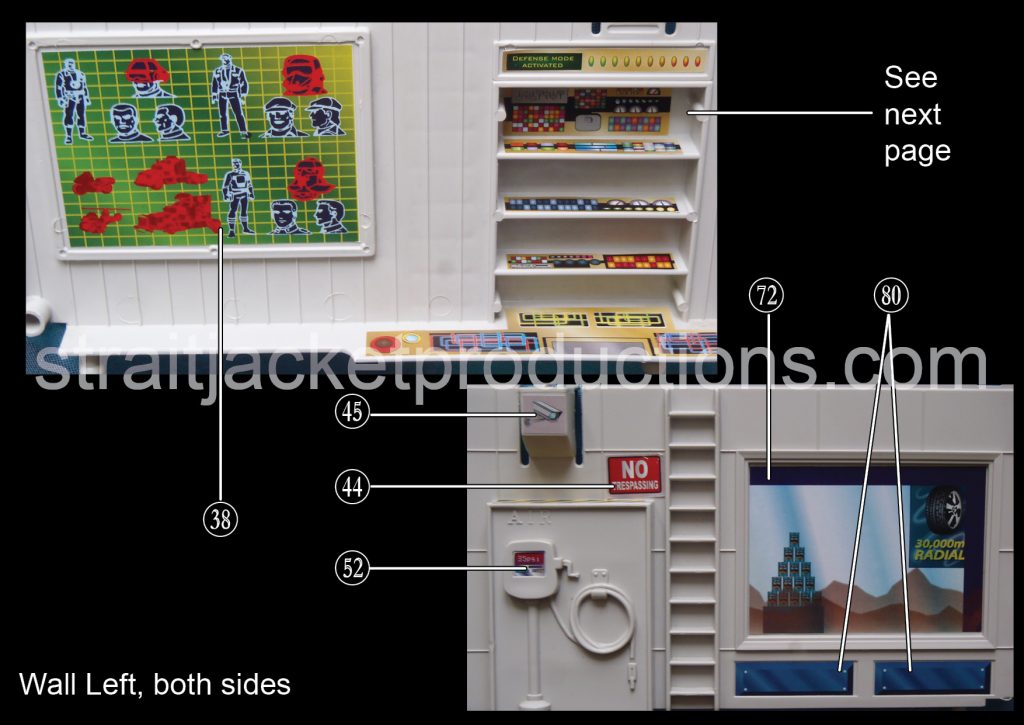 38 – Green vidscreen may need trimming, 1mm from top or bottom.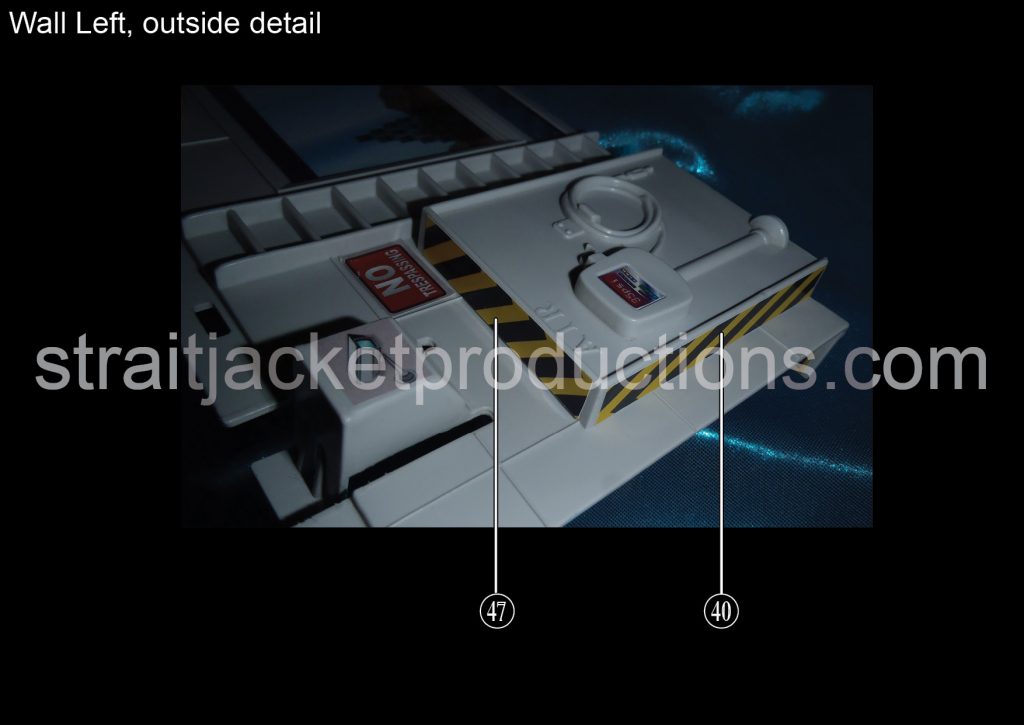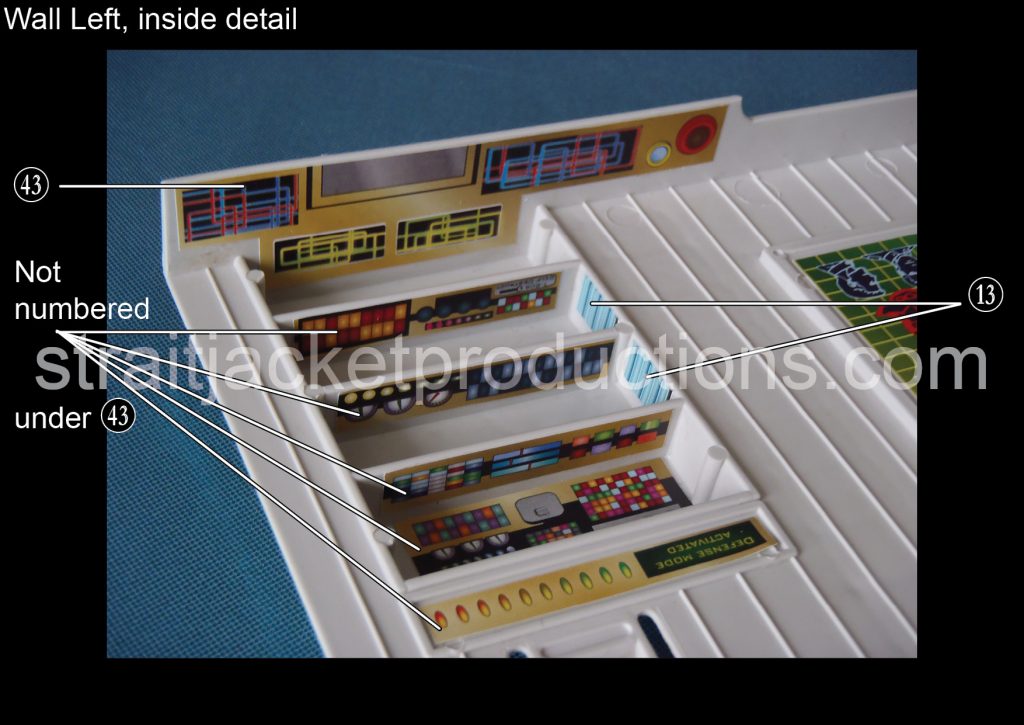 T-Bob self-destruct button on the bottom shelf!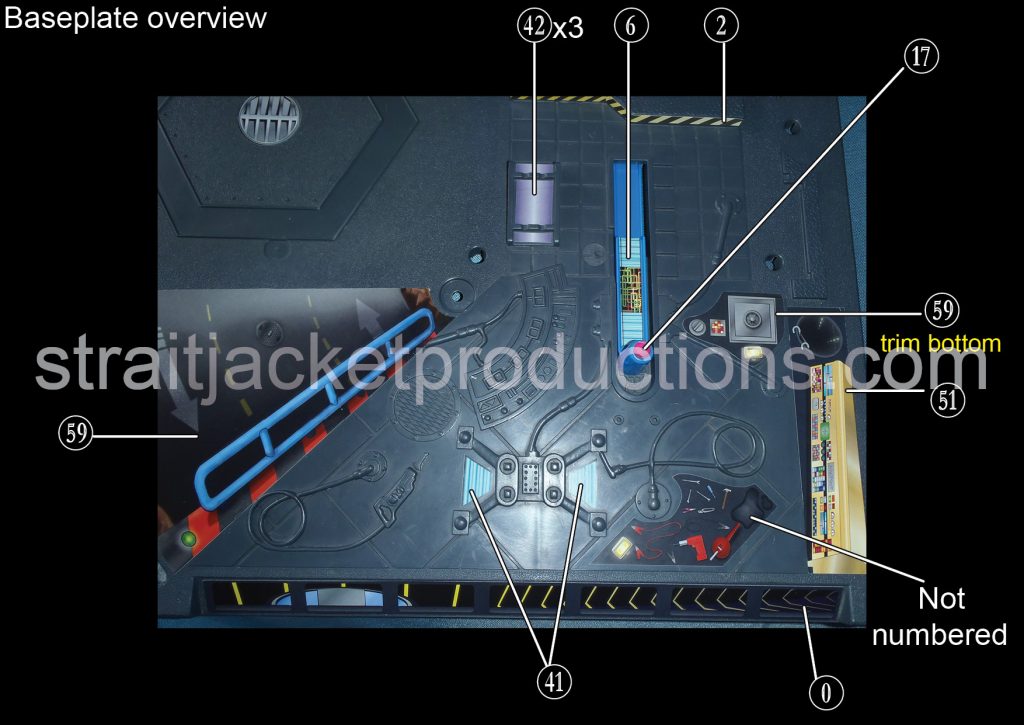 Be extra careful with the large perspective 'underground ramp' image, getting the near edge flush against the ridge on the baseplate. Smooth it out with a sponge. There's a new manhole to cover the strange flat circular bit in front of the shop, there might be a little burr in the centre you'll need to sand down a tad to get the sticker flat.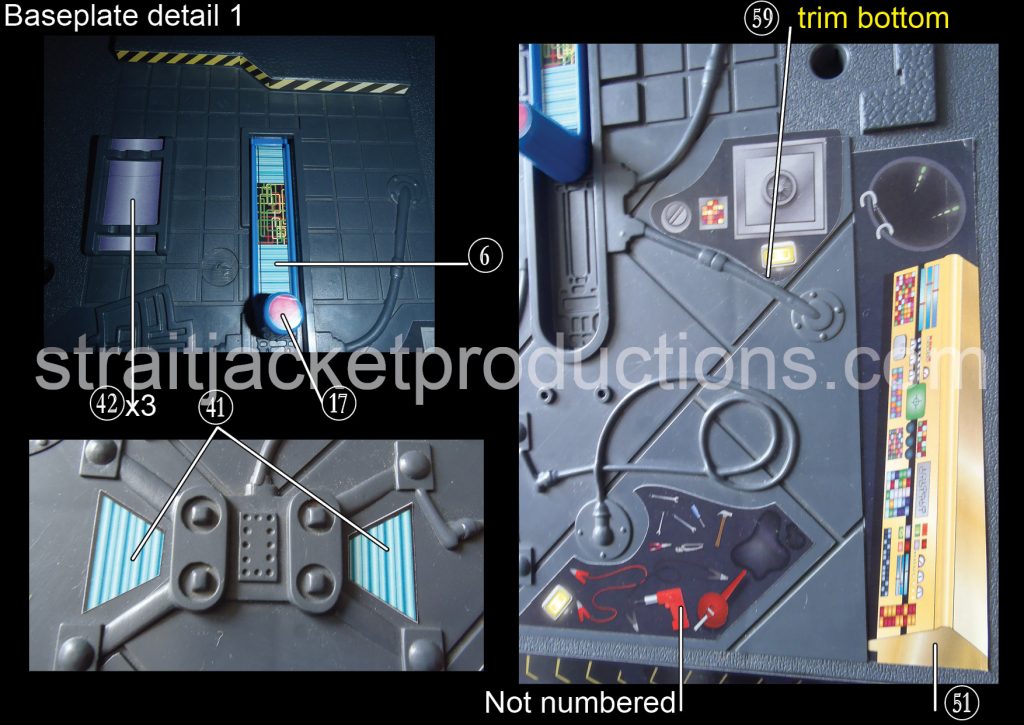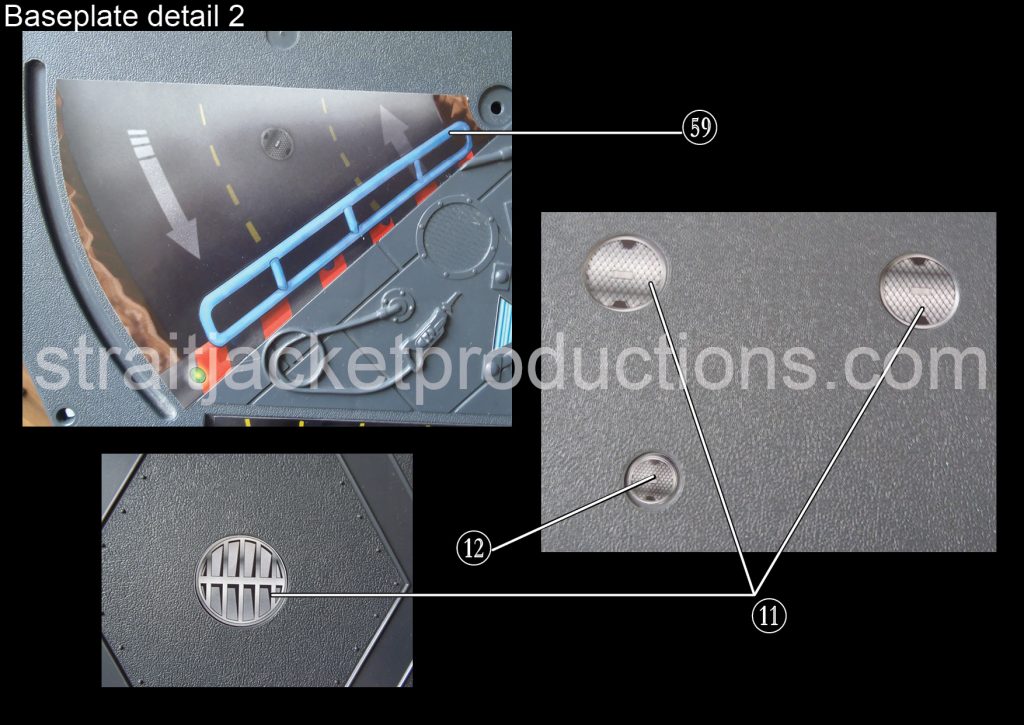 Volcano Upgrade Kit! FREE supplied with Boulder Hill Ultimate Upgrade Kit!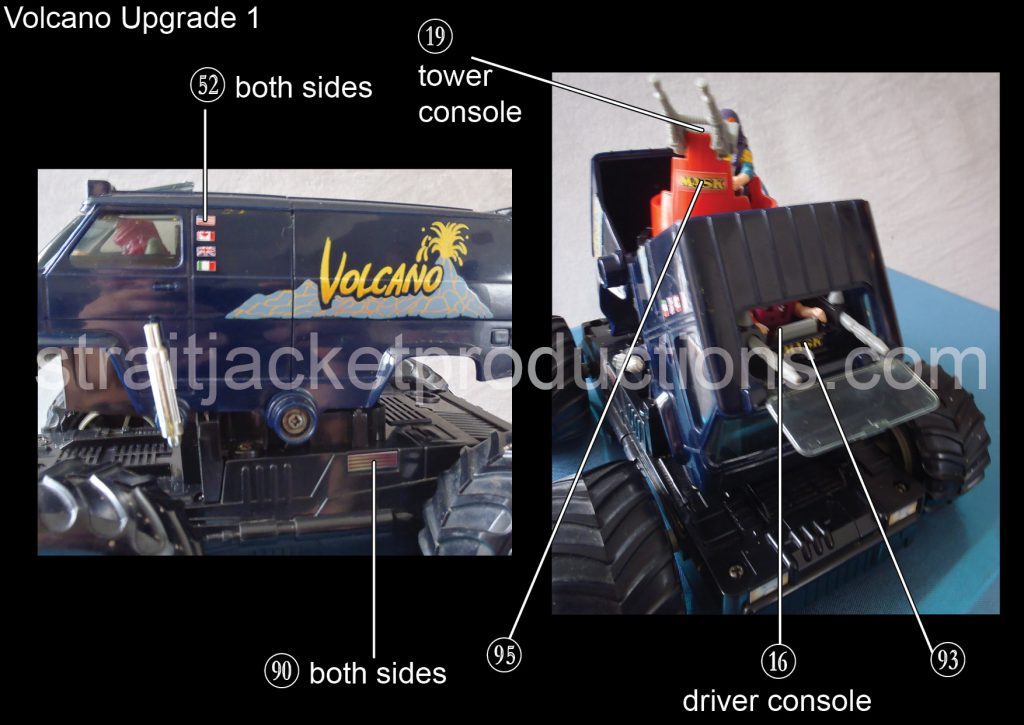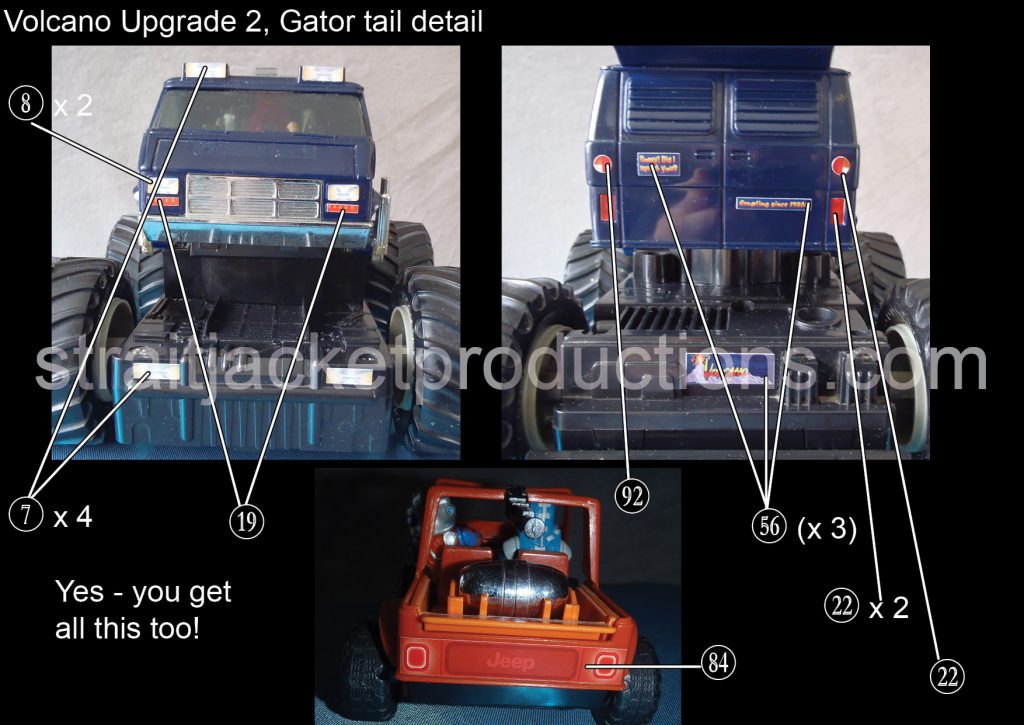 The rest of the stickers you can do what you want with, there are a couple of logos and a spare pair of Volcano headlights for example.
Ebay link here
Pros – This kit won't damage the toy – no painting required – and takes up no extra space so your missus won't mind!
Con – You won't be able to decide which way round – or which mode – to display your Boulder Hill in!
A special thankyou to Mark Jennens who contacted me and suggested I do this.
Spares
Please note if you mess up I am unable to provide free replacements. The art and printing is professionally done but as a hobby project and I will only send out sheets I feel meet the standard your Boulder Hill deserves. I do have some spares though,  and if you contact me crying because your dog swallowed your Energy Room I will try and help, there'll be a nominal charge for me to see if I have the stickers you need, and you pay the postage. I'll only sell spares to folk who've bought a full kit.
Also, sorry no, you can't just buy the Gator tail detail or Volcano kit on their own, they're integrated as a freebee with the Boulder Hill kit. Mainly because my Volcano was looking very drab beforehand having been left out in the rain about 20 years ago,  and why not? 🙂
Feedback
Do you have suggestions for other kits I should make?
You can contact me by email, my Creature & Animal facebook page or the MASK facebook groups here or here or here if you have any questions or feedback. I'd love to know what you think!
Disclaimer
This kit is unofficial, made by a fan for fans. I am not associated with Kenner, Mattel, Hasbro or anyone else!  Although if they were smart they'd offer me a job! 🙂